Friday, April 8th, 2016

Posted by Jim Thacker
Tetraface releases Metasequoia 4.5 for OS X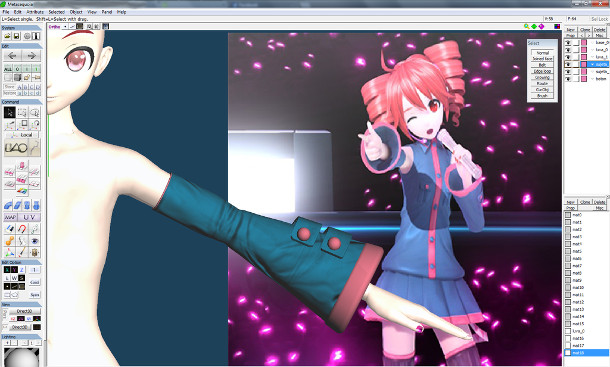 An earlier version of Metasequoia in use, in a screenshot from Deviantart user johnjan11. The recent 4.5 update makes the veteran Japanese hobbyist 3D modelling software available on Mac OS X as well as Windows.
Veteran Japanese hobbyist 3D modelling software Metasequoia has just been released for Mac. Developer tetraface's recent 4.5 update makes Metasequoia available on OS X for the first time.
Metasequoia: a primer for non-Japanese users
Although Metasequoia – sometimes referred to simply as 'Meta' – has been around for years, and does have an English-language edition, it's never really taken off outside its native Japan.
It has a basic range of polygon and subdivision surface modelling tools – it actually uses Pixar's OpenSubdiv libraries – plus an armature system for posing models, and UV capabilities.
You can export models in most standard 3D file formats (3DS, OBJ, FBX, STL and so on), so long as you don't expect anything fancy like Alembic.
New in version 4.5: morph targets, Matcaps and Macs
To that, the 4.5 update adds a morph target system for facial animation – Meta already has basic support for bone-based animation, and can export to freeware animation app MikuMikuDance – and SVG import.
There are also a couple of oddities in a package of this type: a ZBrush-style Matcap lighting system and support for RenderMan rendering.
And, of course, it's now available on OS X as well as Windows.
If nothing else, it's an interesting insight into the way the 3D tools market in Japan differs from that in the West, and there's a free feature-limited edition if you want to download it and play around.
Pricing and availability
Metasequoia 4.5 is available now for Windows XP and above and Mac OS X 10.9 and above. The Standard edition costs $45; the EX edition costs $150. You can see a comparison table for the different editions here.