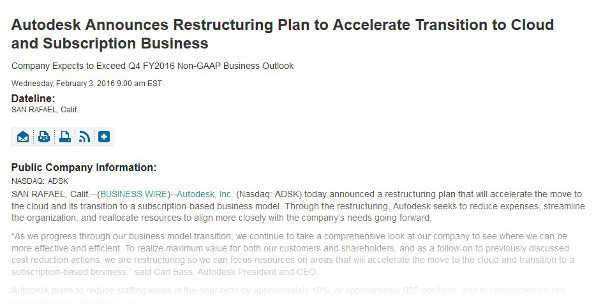 Autodesk is to lay off approximately 10% of its staff – around 925 jobs – as part of a restructuring plan that will "accelerate the move to the cloud and its transition to a subscription-based business model".
The news comes days after the company phased out sales of perpetual licences of its software in favour of a subscription-only model, a policy which came into effect on 1 February.
Layoffs for software developers as well as support staff?
Autodesk's announcement explicitly links the layoffs to its move to a rental-only policy.
"As we progress through our business model transition we continue to take a comprehensive look at our company to see where we can be more effective and efficient. We are restructuring so we can focus resources on areas that will accelerate the … transition to a subscription-based business," said Autodesk CEO Carl Bass.
Although Autodesk's official statement does not go into detail on how the job cuts are distributed within the company, it isn't hard to see that a rental-only model reduces the need for support staff.
Since subscriptions encourage users to sign up for a product indefinitely, rather than picking and choosing which upgrades to buy, they typically reduce marketing and fulfilment costs – by around 50% in Autodesk's case, according to this analysis by The Register.
However, postings on discussion board TheLayoff.com from users claiming to be Autodesk employees suggest that cuts may, if anything, be even more severe in the product development teams.
As yet, the reports are uncorroborated, but we've contacted Autodesk, and will update if we hear back.
Updated: Autodesk declined to comment on whether job cuts in the development teams would be more or less severe than the company-wide average, saying: "We aren't providing specifics on job cuts out of sensitivity to impacted employees. We have not provided any breakdown even to employees, so I'd be skeptical of anybody who claims to know if a certain job had a greater impact than others."
We also asked whether any of the company's Media and Entertainment software products would be discontinued as a result of the layoffs, but again the Autodesk declined to comment, saying only that "M&E remains an important industry for the company moving forward".
Can the cuts reverse Autodesk's recent decline in revenues?
Despite the cuts, Autodesk says that it expects to meet or exceed its predicted revenues for the current quarter.
According to Bass: "The restructuring is not related to anything we are seeing in the macro-economic environment. We ended fiscal 2016 on a high note with very strong fourth-quarter billings growth and continued demand for our subscription offerings."
While Autodesk's subscription revenue has indeed risen steadily over the years, licence revenue has recently been falling faster, with the company's total net revenue declining for the previous three financial quarters.
The company reported a net loss for both Q2 and Q3 of the current financial year.
With Q4 representing the last one in which the company can rely on income from perpetual licences, it will be interesting to see whether subscription revenues are growing fast enough to replace it when Autodesk announces its fourth-quarter results on 25 February.
Read Autodesk's official announcement of the 925 layoffs
Tags: autodesk, earnings, financial results, income, job cuts, layoffs, net loss, perpetual licence, rental-only, revenue, revenue decline, staff cuts, subscription only