Friday, July 3rd, 2015

Posted by Jim Thacker
Eye candy: See the best student CG work of 2015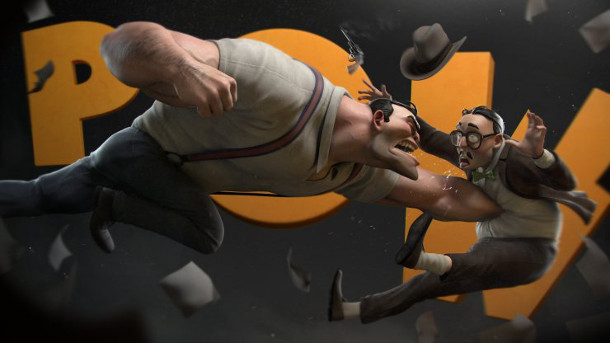 Over the past five years, the CG Student Awards have become some of the world's most prestigious accolades for students working in the fields of visual effects, animation and game development. Founded by VFX veterans Alwyn Hunt and Andrew McDonald, the awards now attract a judging panel of leading movie and game artists – this year headed by quadruple Oscar-winner Joe Letteri – and a prize pool worth over $360,000.
Below, we've rounded up the winners of the six main categories at the 2015 awards, chosen from over a thousand entries from 216 schools worldwide. The work of the next generation of CG stars, they define the standard to which would-be professionals should aspire – not to mention making for some fabulous eye candy.
Student of the Year: VFX/Animation

Winner: Daniel Kho
School: Gnomon School of Visual Effects, USA
Daniel Kho studied at The One Academy in his native Malaysia, where he also worked as a junior artist at games outsourcing facility Streamline Studios, before relocating to California to study at Gnomon.
A gifted visual storyteller, Daniel's dynamic, cartoony work vividly conveys the personalities of his characters. "I have a huge passion for art, and I love taking 2D concepts and bringing them to life in 3D," he says.
A four-time winner of Gnomon's Best of Term awards – and twice the school's Grand Prize winner – Daniel currently works as a freelance character modeller at Blur Studio.
See the runners-up in the Student of the Year: VFX/Animation category
Student of the Year: Games

Winner: Danny Mak
School: Gnomon School of Visual Effects, USA
Danny Mak began his career as a graphic designer and worked as a games artist for digital jukebox developer AMI Entertainment before enrolling at the Gnomon School of Visual Effects.
Drawing on his background in traditional art, Danny's work references both old and modern masters, transferring classical figuration into a contemporary setting.
"I draw inspiration from art across all spectrums, from traditional masters like Caravaggio, Michelangelo and Van Gogh to my modern CG heroes like Rafael Grassetti, Scott Eaton and Will Harbottle," he says.
Twice a Best of Term winner and once a Grand Prize winner during his time at Gnomon, Danny has freelanced at facilities including Robotoki and Gentle Giant Studios, and is now a character artist at Blind Squirrel Games.
See the runners-up in the Student of the Year: Games category
Film of the Year

Winner: Make it Sound FAT
School: Bellecour École, France
Created by a team of seven students at Lyon's Bellecour École, headed by director Romwald Bogun and animator Aurélien Cova, Make it Sound FAT charmed viewers with its colourful, offbeat sensibilities.
The story of a musician who finds himself in charge of a heavenly orchestra whose music controls the fate of those left behind on Earth, the short's deceptively simple cartoon style belies its visual sophistication.
"We wanted characters as stretchable as the 2D characters in Adventure Time or [those of illustrator and director] Mcbess," says Bogun, who also cites Sony Pictures Animation's Cloudy with a Chance of Meatballs.
Since its release, the animation – created primarily in 3ds Max, mental ray and After Effects – has become a Vimeo staff pick, and was voted film of the week on Awardeo.
Read about the making of the short on the CG Student Awards magazine site
See the runners-up in the Film of the Year category
Game of the Year

Winner: Battery Jam
School: Savannah College of Art and Design, USA
Created by a core team of four students at SCAD, plus a support crew of animators, sound designers and musicians, Battery Jam is a colourful four-way combat/strategy title, currently being developed for PC.
Players take the role of one of four robots to fight it out in a local multiplayer battle arena, making use of abilities, power-ups and environmental traps to overcome their opponents.
"We wanted to make a game that had people smiling, and so far it seems like we've succeeded," say the developers. "Watching strangers laugh has been an amazing pay off."
As well as taking top spot at the CG Student Awards, Battery Jam was one of five finalists in E3′s College Game Competition and was recently showcased at the leading international videogame expo.
See the runners-up in the Game of the Year category
People's Choice

Winner: Johnny Malcolm
School: Think Tank Training Center, Canada
Completed after just a year at Vancouver's Think Tank Training Center, where he specialised in environment art, Johnny Malcolm's reel combines strong low-poly modelling skills with a command of light and colour.
"Because of its immersion, I feel that the video game medium is uniquely positioned to create transporting and transformative visual experiences," he says.
The work on the reel was modelled and textured in ZBrush, Maya and Photoshop and rendered in CryEngine.
Johnny now works as a world artist at Sleeping Dogs developer United Front Games. "It is my desire to find new experiences to challenge my creative limits and to create art in a collaborative environment," he says.
See the runners-up in the People's Choice category
School of the Year

Winner: Gnomon School of Visual Effects, USA
A pioneering post-secondary school created with the aim of providing an educational environment that prepares students for real jobs in the industry, Gnomon was named School of the Year for the second year running.
Staffed by working professionals to ensure that its curriculum moves in tandem with the industry, Gnomon's alumni are now employed at most of the world's leading VFX, animation and games facilities.
The top 20 schools of 2015 were calculated from the performance of the student work entered in each of the categories above, with the exception of People's Choice: a process explained on the CGSA website.
Gnomon's score of 351 placed it 35 points clear of the second-placed Savannah College of Art and Design, and over 100 clear of Think Tank Training Center and Auckland's Media Design School, which tied for third place.
Visit the Gnomon School of Visual Effects online
Read the CG Student Awards' list of the top 20 schools worldwide for VFX, animation and games
More eye candy

In addition to the main category winners, the CGSA also awards 'Bootcamp Placements' – internships at leading movie and games facilities – to students whose work shows exceptional potential. You can see all of the 16 winners in the VFX and animation category here, and of the four winners in the games category here.
Full disclosure: CG Channel is owned by the Gnomon School of Visual Effects.