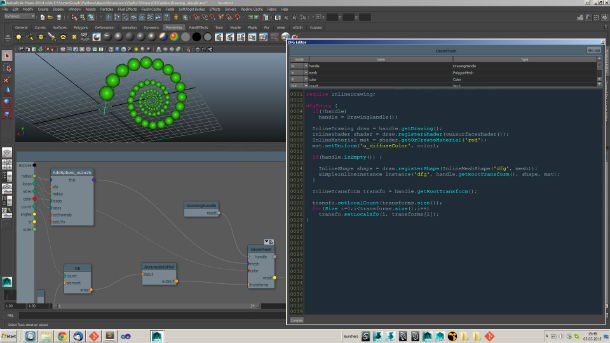 Fabric Engine 2.0 will add a visual programming system to the software development platform, enabling users to create custom VFX tools by wiring nodes. Image updated from original post to show updated user interface

Originally posted on 22 July 2014. Scroll down for updates.
Fabric Software has announced that it is to add a node-based visual programming system to Fabric Engine 2.0, the next major update to its newly GPU-capable VFX tools development platform.
The toolset will be previewed at the developer's user group at Siggraph 2014, along with a new version of Splice – the 'universal plugin' that exposes Fabric's core engine to other DCC tools – for 3ds Max.
Create new VFX tools by dragging and dropping code components
On its release two years ago, Fabric Engine quickly gained attention as a quick way for studios to develop custom tools – even studios without large R&D teams.
The new visual programming toolset, which represents code as graphical elements that may be dragged, dropped and wired up visually, broadens that user base still further.
While it's hard to imagine that you could build complex tools without any kind of coding knowledge whatsoever, it should certainly makes things easier for non-specialists.
Updated 10 March 2015: Fabric Software has just posted a more detailed preview video of Fabric Engine 2.0's visual programming system, now named Canvas.
You can find more information in this thread on CGTalk and sign up to test the system from the overview page on Fabric's website. Find more videos exploring how Canvas works on Fabric Software's website.
So far, there isn't an official release date for version 2.0, but Fabric Software CEO Paul Doyle has posted that "things should get exciting around FMX" in early May.
Read Fabric Software's official news announcement about Canvas
Tags: 3ds max, Canvas, demo, drag and drop, Fabric Engine, Fabric Engine 2.0, Fabric Software, Maya, new features, node, Siggraph 2014, softimage, Splice, tools development, video, visual programming