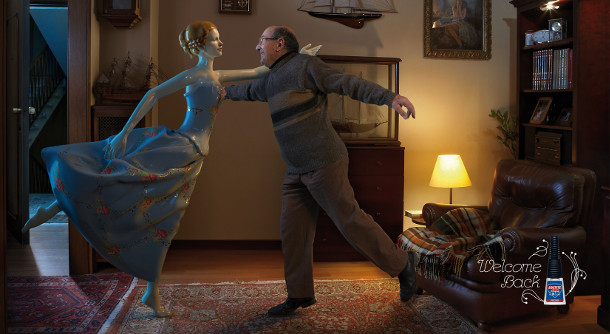 An archive ad created using Maxwell Render by The Scope for Loctite glue. Skin rendering – and subsurface scattering in general – will be a focus for Maxwell Render 3.1, along with several new VFX-friendly features.
Next Limit has unveiled Maxwell Render 3.1, the latest update to the physically based renderer, adding support for OpenVDB, Mari's UDIM texture format, and a new system for rendering skin.
The announcement was made last month, but we missed it until it popped up on the new Maxwell Render blog.
New features for VFX artists
New features in the update, which will be free to registered users, include support for the OpenVDB format for volumetrics, developed at DreamWorks, and widely used in visual effects.
The release will also implements other VFX-friendly features, including a new worfklow for translating familiar, but non-physically based, lighting setups – such as spot lights – into Maxwell equivalents.
Maxwell Render 3.1 will also support the UDIM UV offset format used by textures created in Mari.
In addition, Next Limit says that it is focusing on skin rendering, and subsurface scattering materials in general, although the blog post doesn't go into much technical detail.
New network rendering system now in development
The developer will also be releasing a separate technology preview of its new network rendering system to coincide with that of Maxwell Render 3.1.
According to Next Limit, the new system can recover automatically from failures the old system did not properly handle; and can be monitored from a web browser, including the option to copy and paste jobs.
Available as a test build
Maxwell Render 3.1 is available on Next Limit's Early Builds portal, though there's no news of an official release date yet.
Read more about the new features in Maxwell Render 3.1
Tags: Mari, Maxwell Render, Maxwell Render 3.1, network rendering, new features, Next Limit, OpenVDB, physically based, release date, render manager, renderer, skin rendering, skin shading, subsurface scattering, UDIM, volumetrics