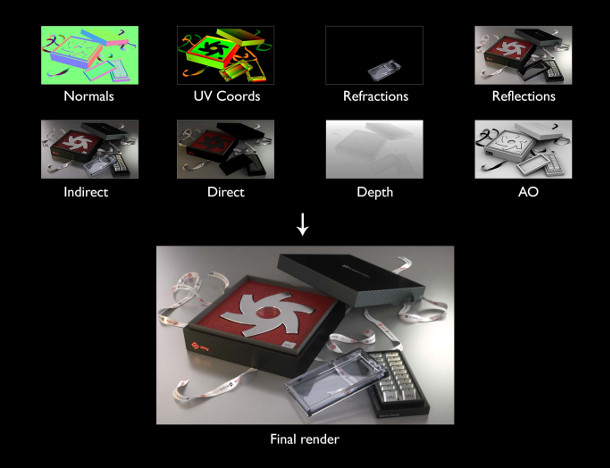 OctaneRender 2.1 adds the option to export lighting layers as render passes, enabling the output of the GPU-based renderer to be used in a conventional final-frame compositing workflow.
Otoy has released OctaneRender 2.1, the latest version of its GPU-based physically accurate renderer, adding render pass output for lighting layers and a new undo system, and boosting render speed.
Support for render passes
The new render pass output is interesting, since it parallels what Chaos Group is doing with V-Ray RT GPU, bringing the output of the renderer in line with a conventional compositing workflow for final-frame images.
The official announcement mentions the option to separate reflections, refractions, normal, direct and indirect lighting as passes, while the demo image above also shows normals, UV coordinates, Z-depth and AO.
New SDK, undo system, speed boosts
Other new features include improved sampling, to reduce noise in the output of OctaneRender's Direct Lighting and Path Tracing kernels, plus a new 'coherent mode' resulting in a render speed boost of "30% or more".
There is also a new undo system, which does exactly what the name suggests, plus a Lua-based scriptable node graph SDK for third-party developers.
The release announcement namechecks Pixelux's DMM game physics system and Unreal Engine as examples of tools that could be integrated with OctaneRender using the SDK.
Pricing and availability
OctaneRender 2.1 is available now; the plugins linking the renderer to other applications will be updated "over the next few weeks". New standalone licences cost €299 (around $400); the price of plugins varies.
Read more about the new features in OctaneRender 2.1 on Otoy's forum
Tags: GPU-accelerated, GPU-based, Lua, new features, node-based, Octane Render, OctaneRender, OctaneRender 2.1, Otoy, physically based, price, render engine, render layers, render passes, renderer, SDK, speed boost, unbiased, undo