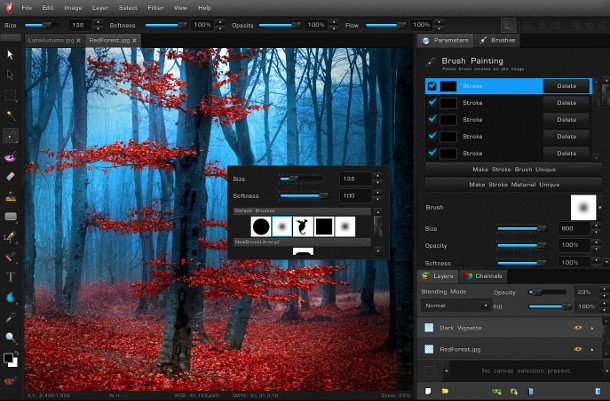 Two weeks ago, we brought you our list of five new CG technologies to watch. Here's a bonus: a lightweight procedural graphics editor, offering good support for Photoshop files and a completely non-destructive workflow.
Last month, we featured five new technologies to watch on CG Channel: one for each day we were on holiday. However, there were a few other interesting apps that missed the list – and today, we're featuring one of them.
A lightweight procedural image-editor offering an innovative non-destructive workflow, Ormr has, inevitably, been touted as an alternative to Photoshop. So what sets it apart in this increasingly crowded market?
What is it?
A lightweight procedural image editor, combining vector and raster tools. It has a completely non-destructive workflow, and a "best in class" PSD importer. It's currently in public beta.
Why is it notable?
Everything you do can be edited later, independent of future changes, including editing brush strokes. It's fully 16-bit, and the PSD importer preserves layers, groups, masks, blending mode and effects.
Similar to?
CGTalk has a long list of image-editing and paint packages, intended as alternatives to Photoshop.
Developer Mad Cat Software has posted a semi-tongue-in-cheek comparison with Photoshop and GIMP (we got a chuckle out of 'No accidental bi-monthly opening of the Bridge'), but this thread on Blender Artists may be a more useful discussion of the current feature set: there are currently no Curves, for example.
Selling points?
Innovative non-destructive workflow. Plays nicely with Photoshop PSD files and brushes. Imports a range of camera Raw formats. Regularly updated. Inexpensive, particularly at current beta pricing.
Key technical features?
Find a summary list here.
Runs on?
Windows Vista and above, Mac OS X 10.6 and above. A Linux version is planned.
For?
Standalone.
Price?
The beta is free, or you can buy it now for $24.99, including lifetime support and updates. The price will rise to $49.99 when the software is released commercially.
See it in action at:
The only video we can find on YouTube is from an (unsuccessful) 2012 Kickstarter campaign. But since the beta is free to download, you can easily make up your own mind about the software.
Find more information at:
Visit the Ormr website
Tags: alternative, brush, Featured Articles, image editing, Mad Cat Software, non-destructive, nonlinear, Ormr, Photoshop, price, procedural, raster, technologies to watch, vector