Wednesday, May 21st, 2014

Posted by Jim Thacker
Mixamo to update Fuse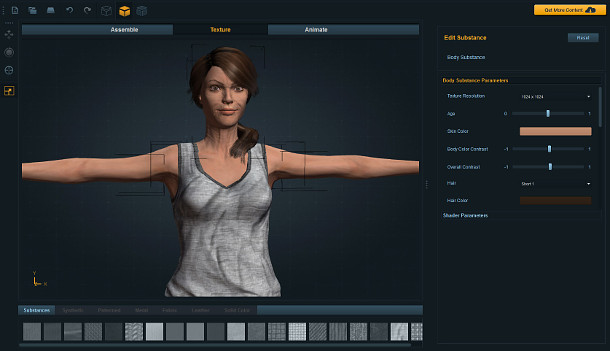 Fuse 1.0. Mixamo has announced that its 'universal character generator' will be updated at GDC 2014 to enable users to import their own models and customise them with Fuse's textures and clothing meshes.
Originally posted on 12 March 2014. Scroll down for updates.
Mixamo has announced updates to its range of character-creation and character-animation services, to be launched at next week's GDC 2014 conference.
Fuse to get option to import custom characters, new online LoD service
Fuse, its standalone tool for creating custom 3D characters, gets an official release, and gains the option to import any full-body model in OBJ format and customise it with readymade textures and clothing meshes.
Users on Mixamo's All Access subscription program also get access to The Decimator, a new online level of detail service. There aren't many details about this in the press release below, beyond that it's still a work in progress, and isn't integrated with Mixamo's other services yet.
New monthly payment option
The company has also introduced a new $150 monthly payment plan for All Access users. Previously, you could sign up for all of Mixamo's services for $1,499 per year, or access some services via pay-as-you-go credits.
Updated 28 March: Fuse 1.0 is now available on Steam, priced at $99.99.
Updated 21 May: Mixamo is adding the option to customise characters in Fuse by editing the mesh directly, as well as by combining readymade stock body parts.
The functionality, which will be rolled out next week, enables users to modify the mesh "simply by clicking … and manually dragging it in a particular direction". It will be free to all current users.