Originally posted on 21 March. Scroll down for details of the new Unreal Engine 4.2 update.
Epic Games has released Unreal Engine 4 commercially. A subscription to use the engine, which is in use at Epic itself and on a string of third-party titles including Fable Legends, costs just $19 per month.
That gets you the engine, the editing tools and the C++ source code, should you need it. The sting is that Epic takes 5% of your gross revenue when your game ships.
Reassuringly expensive?
"We realize that's a lot to ask," noted Epic founder Tim Sweeney in the release announcement. "It would be a crazy proposition unless UE4 enables you to build way better games way more productively than otherwise!"
"Unreal Engine 4 has been built by a team of over 100 engineers, artists and designers, and this launch represents all of our hopes and dreams of how major software can be developed and distributed in the future."
Documentation and system requirements
You can find full documentation for the engine on the Unreal Engine website, and over 70 new video tutorials on the engine's YouTube channel.
Unreal Engine 4 runs on 64-bit Windows 7 or Mac OS X 10.9.2 or later. A subscription enables you to deploy games to Windows, Mac, iOS and Android, with Oculus VR and HTML5 in development.
Priced higher than CryEngine
In related news, Crytek has announced that it will be making its own CryEngine available to indie developers for $9.90 per month – and no share of the royalties.
Exactly what constitutes an 'indie' developer in this context isn't clear, but we assume that Crytek will clarify that point before the licensing scheme rolls out commercially in May.
Updated 4 April: Epic Games has already announced its first update to Unreal Engine 4, in what the developer describes as the first of many. "Think of it as a continuous release plan," reads the blog post.
Version 4.1 adds the option to deploy to Linux and SteamOS, and access to an updated version of the old Elemental demo. There are also quite a few UI and workflow updates and a lot of bugfixes.
The update is due to roll out later this month.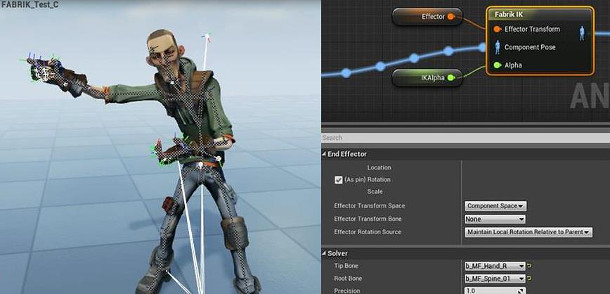 Unreal Engine 4.2's FABRIK (Forward And Backward Reaching Inverse Kinematic) solver works on a chain of bones of any length. The solver is one of several rigging and animation-focused updates in the new release.
Updated 20 May: Epic has announced Unreal Engine 4.2. New features include a new camera animation system, the FABRIK solver for IK joint chains (above), and improvements to animation debugging workflow.
There are a lot of updates to the way the blueprint system works, and a couple of new free code demos. You can find the full list of changes on the Unreal Engine blog.
Read more about Unreal Engine 4 on the Unreal Engine website
Watch video tutorials for Unreal Engine 4 on Epic Games' YouTube channel
Tags: 4.1, 4.2, animation, camera animation, CryEngine, crytek, debugging, demo, Elemental, Epic Games, FABRIK, Featured Articles, GDC 2014, IK, indie. licensing, Linux, price, Source Code, SteamOS, system requirements, Unreal Engine 4, video tutorials