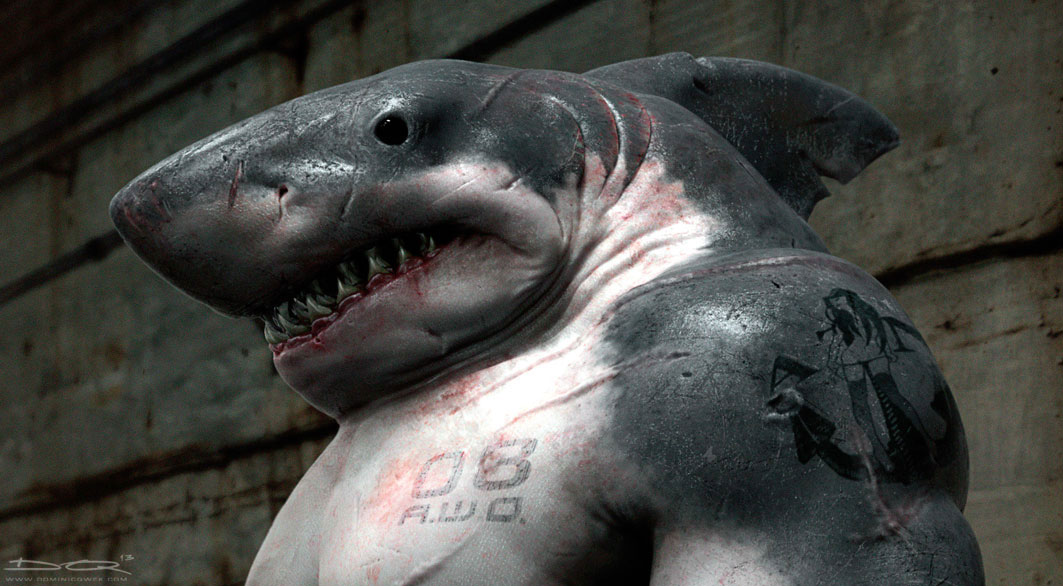 In the run up to his session at Gnomon Workshop Live, the Blizzard Entertainment cinematics star, a veteran of Starcraft II: Wings of Liberty and Heart of the Swarm, runs our gauntlet of quick-fire technical and career questions.

Creature creator Dominic Qwek began his career in Singapore as a 3D generalist before switching to the games industry as a character artist. He currently works at Blizzard Entertainment as a senior cinematic artist where he has worked on titles such as Starcraft II: Wings of Liberty, Starcraft II: Heart of the Swarm and Diablo III. Prior to Blizzard, he worked at Guerrilla Games on Killzone 2.
Dominic's passion for creature design, along with his experience in both pre-rendered and real-time production, has helped him develop a unique approach for creating creature concepts in 3D.
Next weekend, you can see Dominic explain this workflow when he will be one of the ten industry stars hosting sessions at Gnomon Workshop Live, which takes place at Gnomon's Hollywood headquarters from 21-22 September. In the run up to the show, Dominic agreed to field our barrage of ten quickfire questions about his career, his technical tips, and his advice for young artists.
CG Channel: What will you be covering in your Gnomon Workshop live session?
Dominic Qwek: I'll be covering my creature design process, which is broken down into two parts. The first is focused on design and my thought process behind it, while the second is focused on executing that design in 3D.
CGC: What single thing do you most hope that people remember after finishing the class?
DQ: I hope that they'll get inspired to come up with creature designs of their own.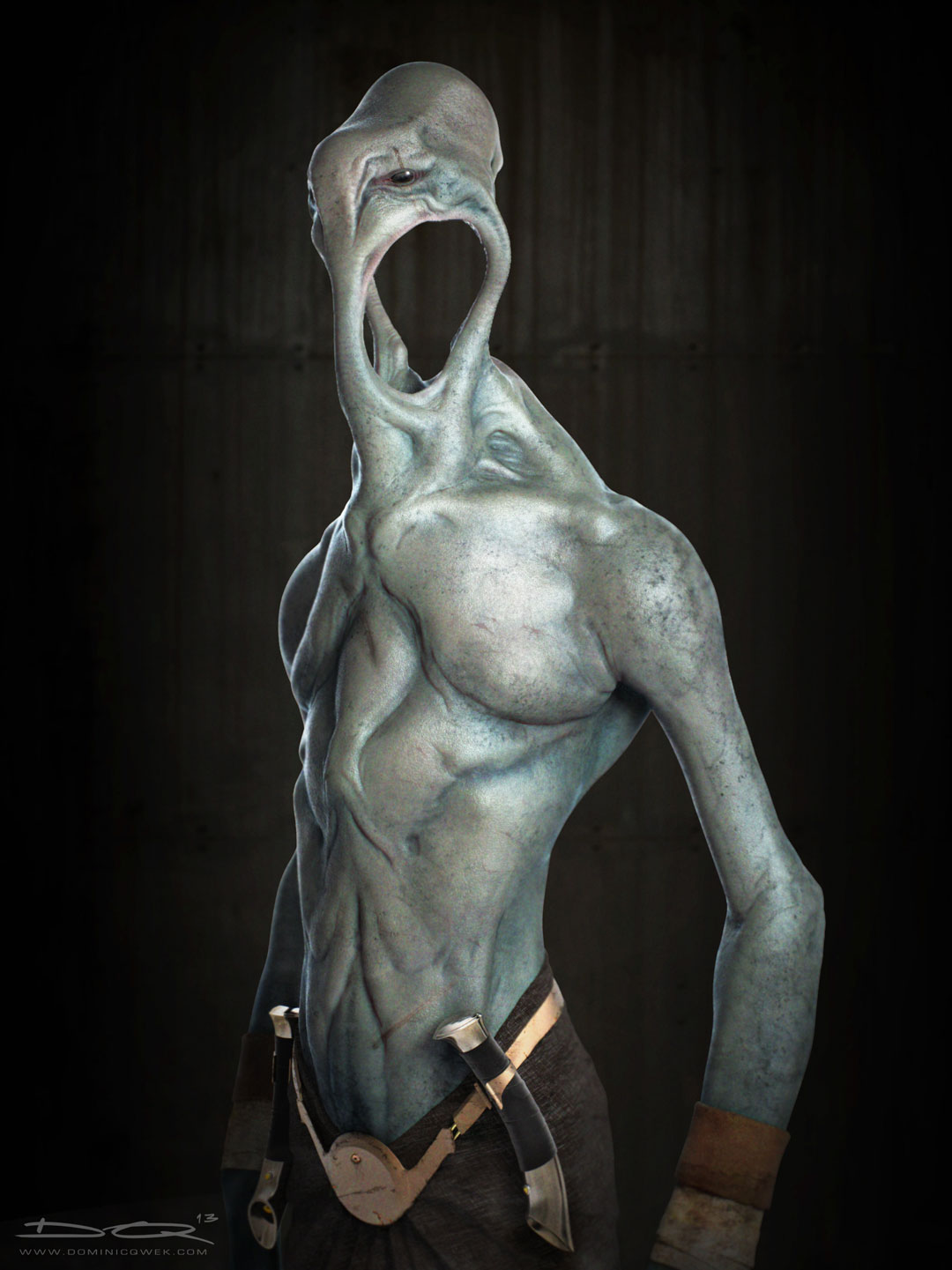 One of Dominic's creature designs, for a personal project. The Enri are a telepathic and highly advanced race. They excel in areas of biomedical science and aerospace engineering.
CGC. What's the best piece of advice you were ever given in your career?
DQ: Focus on your own designs and show your ability to innovate and create. That piece of advice was given to me by [concept artist and fellow Gnomon Workshop Live speaker] Neville Page.
CGC: What's the most common mistake you see young character artists make?
DQ: Something that I have been guilty of in the past as well – and that is doing too much fan art. It's great to do fan art that inspires you, but the creative mind needs be challenged in order to grow and expand. When you create your own designs, you immediately have added value as a character artist.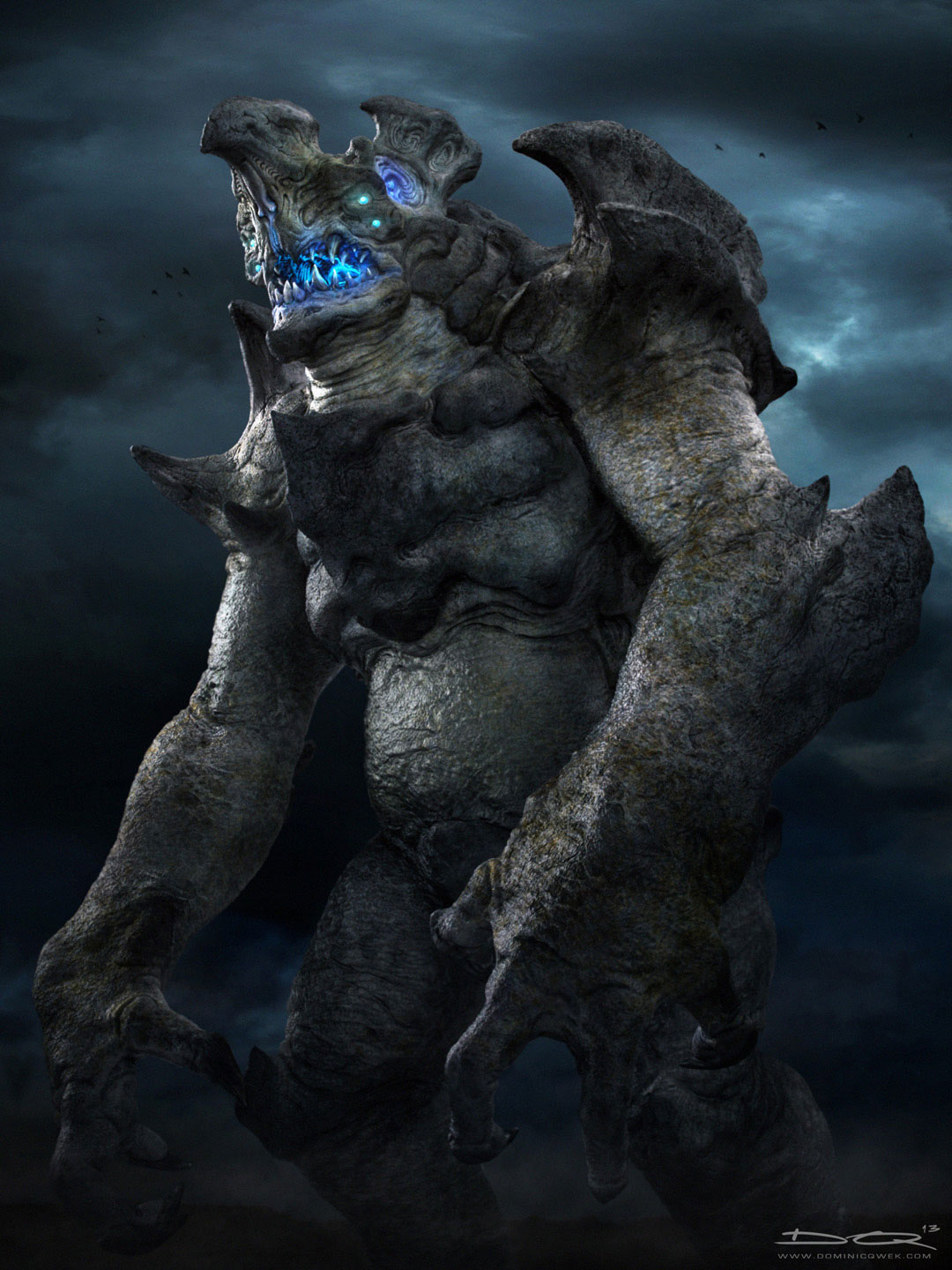 Category IV Kaiju, codenamed 'Hachiwara'. "I grew up watching giant monsters terrorize cities," says Dominic. "Watching Pacific Rim was like being a kid all over again. As such, I was inspired to create a Kaiju of my own."
CGC: What's the most indispensable tool in your primary software package?
DQ: DynaMesh in Zbrush. I couldn't imagine ever sculpting without it now. It eradicates the need for a base mesh and gives me a lot of freedom when it comes to doing concepts in 3D.
CGC: Tell us a neat technical tip that you've never seen written down anywhere?
DQ: Many people will already know this, but I really love using brush gravity in ZBrush for wrinkles and folds.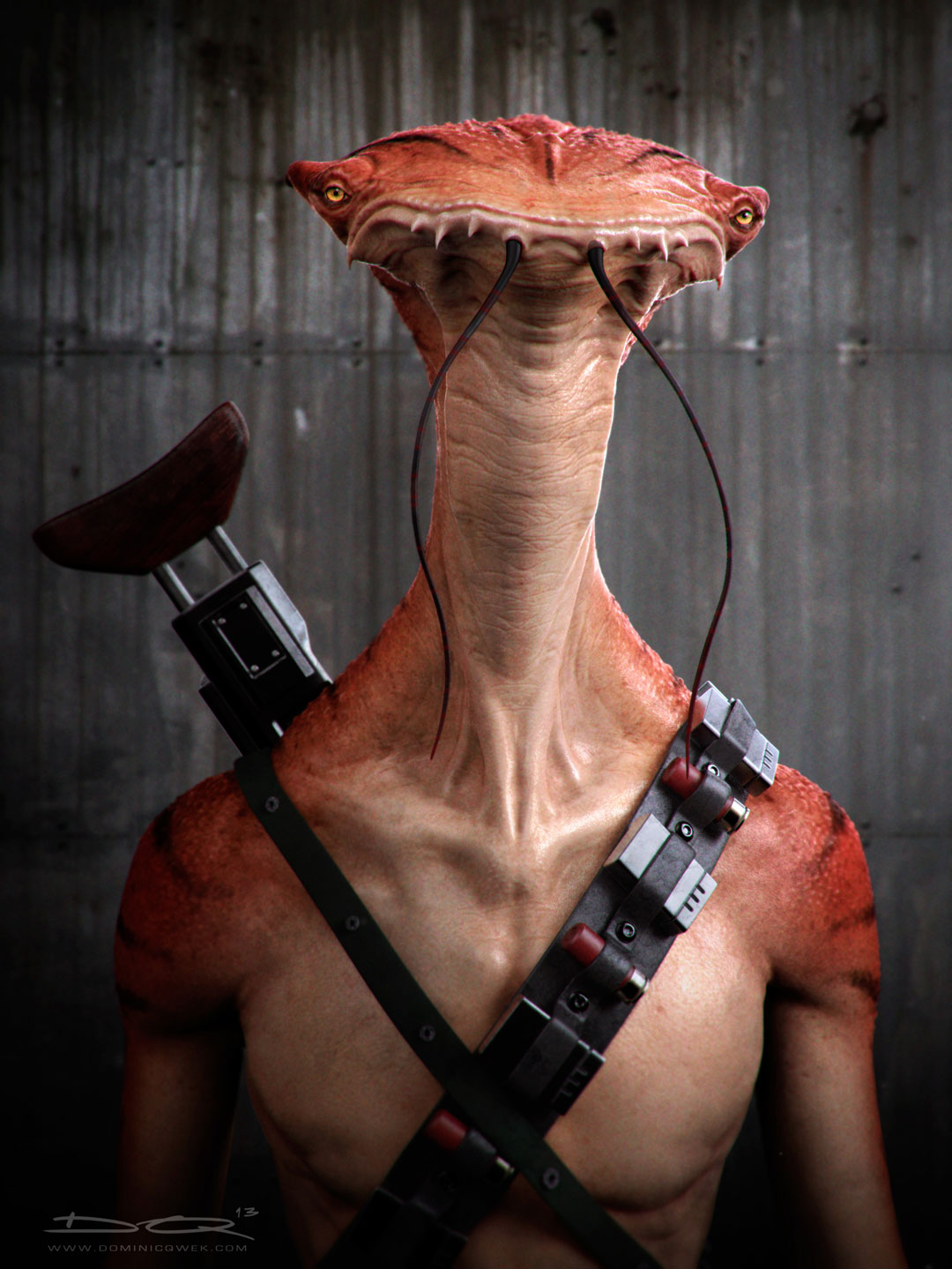 A Domorian warrior: one of a series of alien designs created by Dominic that would fit the space opera genre. Domorians are fierce, tribal creatures, with a nasty temperament, born into a warrior caste.
CGC: What are the three most important qualities a character artist should have?
DQ: An observant mind, a keen eye for detail, and restraint.
CGC: Tell us one thing about your work that no one else knows.
DQ: I actually do a lot of lighting at work.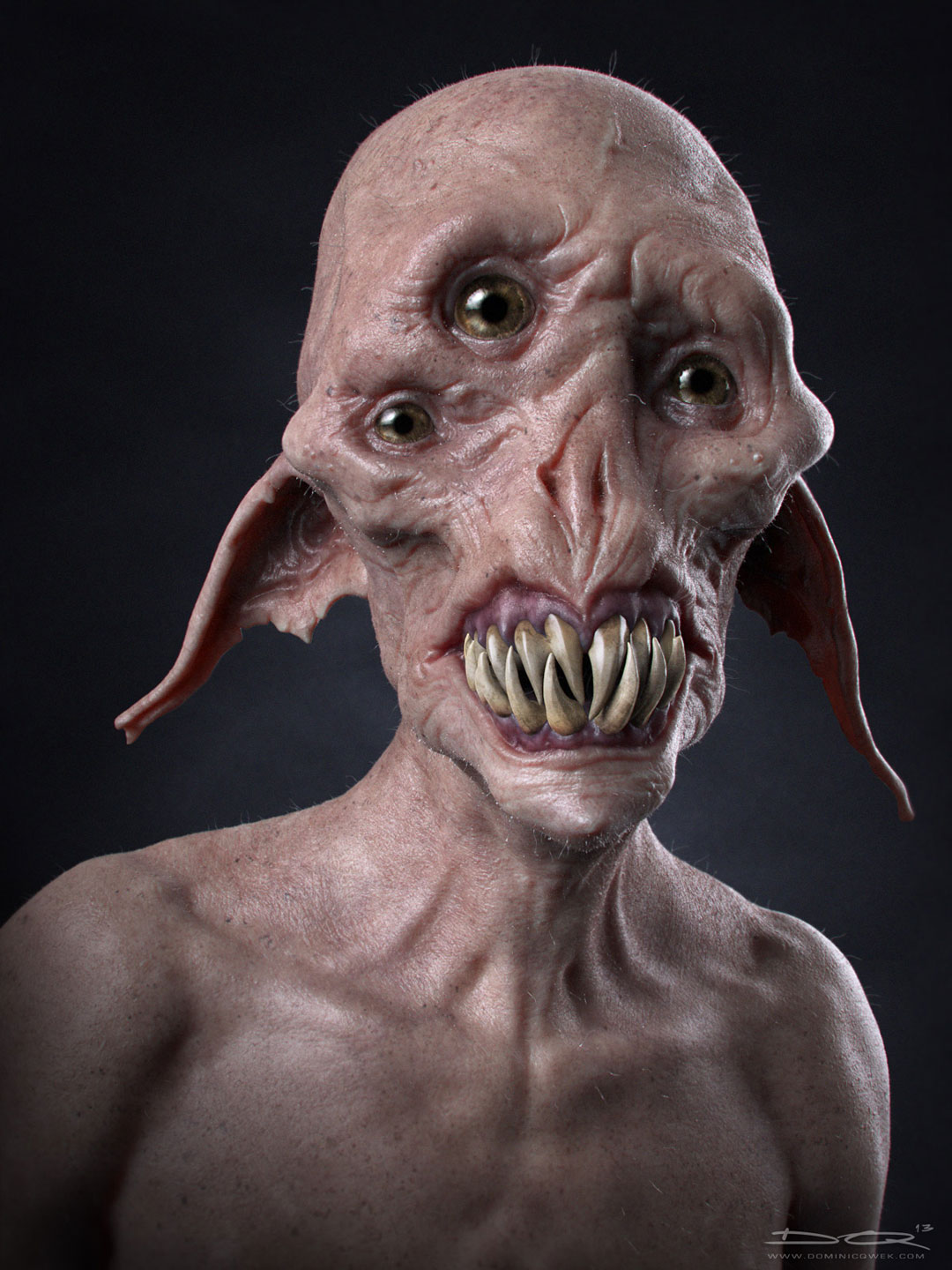 "The majority of my designs are rendered in Keyshot, and it has helped me a great deal in achieving realistic results," says Dominic. "In this case, Keyshot's amazing translucent shader was perfect for this three-eyed imp."
CGC: What part of your working day most makes you think: 'This is why I do this job?'
DQ: Whenever we have meetings to review work and I get to see all the amazing work that everyone is doing. It's very inspiring.
CGC: What single thing do you most hope changes in the industry in the next five years?
DQ: I hope 3D printing will be much more accessible to artists in terms of price and quality. The whole idea of 3D concepts will go beyond the digital realm. Imagine being able to digitally sculpt a character or creature and seeing a 3D print of it the next day in your very own studio!
Register for Gnomon Workshop Live ($250 for a two-day pass, $150 for students)
Full disclosure: CG Channel is owned by the Gnomon School of Visual Effects.
Tags: 10 questions, Blizzard, Blizzard Entertainment, character, cinematics, concept, creature design, Diablo III, Dominic Qwek, games, Gnomon Workshop Live 2013, Guerilla Games, Heart of the Swarm, interview, KeyShot, Q&A, StarCraft II, videogames, Wings of Liberty, ZBrush