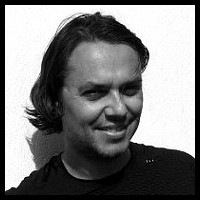 David 'vyle' Levy trained as an industrial designer before going to work for game developer Cryo Interactive as a concept artist. He worked in the games industry for over a decade, including a spell at Ubisoft Montreal as Senior Concept Artist on Prince of Persia and Assassin's Creed, before the concept work for TRON: Legacy provided his first major job in the movie industry. He has since acted as Senior Concept Artist on Ridley Scott's Prometheus and the upcoming Ender's Game and Tomorrowland.
In 2006, Levy co-founded Steambot Studios. Steambot develops original IP for films, comic books and animation, and has now organised its own artist workshop, SB Explore, which takes place in New Orleans from 22-26 May. Speakers include Sparth, Kekai Kotaki and Levy himself.
We caught up with David Levy to talk about SB Explore, his career in concept art, his tips for finding your own voice as an artist – and why he is about to step down as CEO of Steambot Studios to pursue a directing career.
CG Channel: Let's start with SB Explore. What prompted you to set up a workshop of your own?
David Levy: We've been giving classes for many years – at The Gnomon Workshop, Massive Black and ADAPT in Montreal – and we thought it was time to do something of our own.
At the previous workshops, we were always so focused on our monitors that we never really had a chance to go out and share experiences with the other artists and paint with the other artists. The main idea [for SB Explore] was to do a workshop that was more about exchanging information and techniques with other artists directly.
In this industry, it's very rare that artists work in an empty room. Most of the work is done by communicating, exchanging references – not just sitting on your own.
CGC: How many people are you expecting to attend?
DL: The maximum size it could be is around 100, and right now we're halfway there. We're confident we'll reach 70 or 80. It's not a massive workshop: it's something more intimate.
CGC: Why did you decide to hold it in New Orleans, rather than LA or San Francisco?
DL: We also wanted [SB Explore] to be about finding references, visiting museums, and discovering a city, rather than passing through a place for two days and disappearing. New Orleans is a very culturally rich place, when it comes to museums, architecture, myths and legends. That combination pushed us towards having something a little different, towards getting away from the West Coast.
The movie industry is also dynamic over there. Because of [Hurricane] Katrina, there are tax incentives to situate productions in Louisiana, so there is a growing entertainment industry there.
CGC: How did Gnomon come to sponsor the workshop?
DL: We've worked with Gnomon for years. I did a speedpainting DVD, and [Steambot Studios co-founder] Thierry [Doizon] did one on character design. I've always been an active member when it comes to their curriculum.
They've been very kind in sponsoring us with DVDs, so people who go to the workshop will be given some Gnomon DVDs. But also, for us, Gnomon is inseparable from learning in the entertainment industry, so it was important to have their support.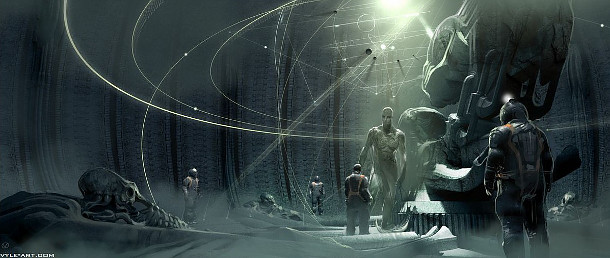 One of David Levy's concept images from Prometheus. One of his sessions at SB Explore covers his experiences working on major Hollywood movie projects such as Prometheus and TRON: Legacy.
CGC: What will you be covering in your own sessions at the workshop?
DL: One of the sessions I'm doing is about the transition from 2D to 3D. A lot of artists have to face that transition right now because the tools are changing very fast. Having started myself as a 2D artist coming from industrial design, I've seen the industry shifting faster and faster towards 3D.
Another session I'll be doing is about the projects I've worked on in the entertainment industry: TRON: Legacy, Prometheus, that kind of thing. It's going to be both [about my workflows and the personal stories of those projects]. So it won't just be about the work, but about the difficulty of balancing of life and work. As an artist, a lot of your creativity is based a lot on your overall balance as a person. To maintain a creative balance, you have to keep your life in balance, which is very difficult when you love the work you do so much.
CGC: So how do you keep your own life in balance?
DL: I'm very lucky in that my fiancée is very good at reminding me that it's time to stop!
If you have a life outside work, it allows you to see things more in perspective. When it's time to eat or time to relax, I try to transition [completely]. That's the only tip I can give.
CGC: So you have to turn off the phone and not answer emails?
DL: Exactly. And that's very difficult to do.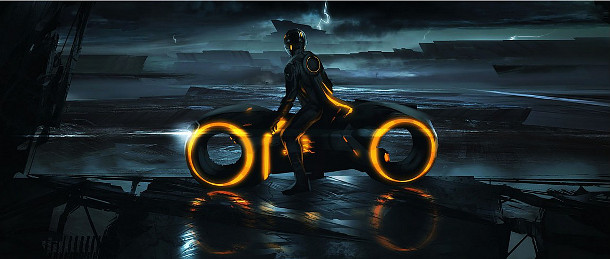 Concept work for TRON: Legacy. The project provided Levy with the opportunity to move from games to films.
CGC: You mentioned that you started out in industrial design. How did you make the transition to film?
DL: My family always loved movies. My Dad was a big fan of Hollywood. But living in France, I never expected to be working in the movie industry.
After jobs in industrial design, I got hired by a videogame company in Paris, and after that, my career transitioned slowly towards bigger and bigger games, until I made my name as concept artist in entertainment, at which point I got called by the movie industry. They thought that [a concept artist] who had experience in more technical things like construction was a great combo.
The first job I got hired to work on was TRON: Legacy, which in some ways is a meeting between videogames and movies, so it was a perfect project to jump on.
CGC: Of all the projects you've worked on, which one shaped your career most?
DL: In some ways, TRON: Legacy. For the first time, I worked with a management team that truly knew their work inside out. I felt I knew a lot after working for so many years in the game industry, but when I started working on TRON, I realised I had so much more to learn. It relaunched my motivation.
The other one was Prometheus, [but that was] because of the intensity of the project. It was a very stressful and intense experience.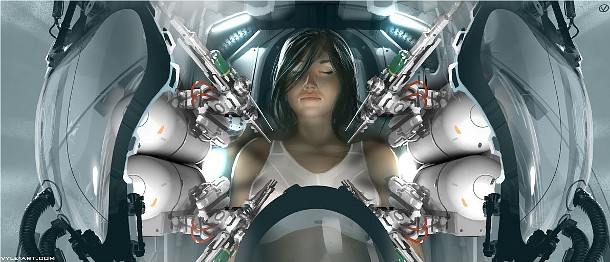 Another concept from Prometheus: a project that Levy describes as a "very stressful and intense experience". The importance of maintaining a good work-life balance is a theme he aims to touch on at SB Explore.
CGC: You set up Steambot Studios a couple of years before starting work on TRON: Legacy. What promoted you to start a company at the same time as taking on all these big commercial jobs?
DL: I think it was the dream of not working for The Man any more. We wanted to work on our own projects, our own intellectual property, our own dreams.
In some ways, this is [very good career advice for] artists. To be seen as valid nowadays, artists have to be seen as coming up with their own vision of things, their own universes. There's so much competition that you have to be unique. You have to sell yourself with a different angle, something personal. So it's necessary to create intellectual property.
CGC: How easy is it to be your own client?
DL: That was the great growing-up lesson at Steambot: it's great to have the dream not to work for The Man, but it comes with big responsibilities. And not only responsibilities, but burdens.
There are parts of a production process you never though of, and you have to learn from scratch. That includes running a company: as artists, we knew nothing about it. It's almost like we've been forced to take a degree in company management over the past seven years.
CGC: What lessons did you learn from the process?
DL: The main thing is to clarify responsibilities in the team. The biggest lesson we learned was to make sure that everybody has a very clear role, that they're responsible for [developing] a different part of the company.

The latest teaser for Plug, David Levy's in-development visual effects short. Read more about the project here.
CGC: How easy is it to manage work on big Hollywood movies in parallel to running a company?
DL: Actually, it's a weird time to do this interview, as I'm just about to resign as CEO. Both my careers, at Steambot and outside Steambot, have grown at the same time. For a long time, it was possible to do both, but now it's just not possible to manage a movie career and a company career in parallel.
My goal is to become a director. It's a new-found love for me. It's like pushing concept art into a different realm where you have to consider everything else. That's where Plug comes in.
CGC: Plug being the visual effects short you have in development. How is it going?
DL: It's almost done. As of now, I can't share too much about it, but things are definitely happening.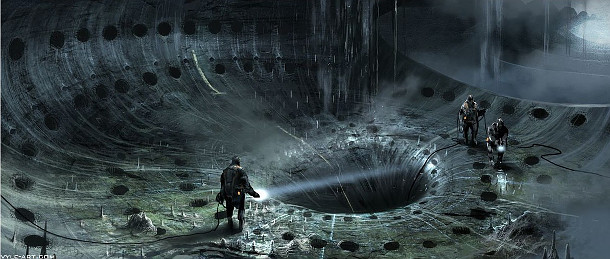 Jumping into concept art can seem daunting. Don't think about what could go wrong: just draw, advises Levy.
CGC: Let's finish the interview with some practical advice. What mistakes do you most often see young concept artists making?
DL: The most common mistake people make is to confuse the importance of tools with the importance of ideas. Concept art is really about ideas: you develop skills to show those ideas. But I find that young concept artists ask a lot of questions about technique: how do I do this or that. And they forget the main point: the concept behind what you're about to illustrate.
As concept artists, we fly from one technique to another. We do 2D, 3D, sometimes still sketching on paper – and it doesn't really matter, so long as it's the best tool to convey the idea.
CGC: What's the best piece of careers advice you ever received yourself?
DL: It was from my art teacher, maybe 20 years ago. He told me: "Don't think too much, just draw." As a young artist, you have a lot of insecurities, you keep asking tons and tons of questions, and I think the artists that really take off are the ones who put in the hours, instead of just talking about it. He told me not to worry too much: just to put in the hours to have the freedom to create without having the burden of not being technically good enough.
CGC: And presumably, because you're practising so much, the technical skills come naturally?
DL: Exactly. That's exactly it.
CGC: This sounds like a good time to talk about 3CH, Steambot Studios' speedpainting creativity tool. How did that come about?
DL: That happened at a time when we were working at Ubisoft. We had a little contest between us to practice our speedpainting abilities, but for some reason, we kept turning around the same subjects. After a while we got tired of doing vampires, or ninjas, or robots, so to push ourselves to do more complex paintings we started thinking that it would be nice if you just pressed a button and a new subject appeared. One of the people we were talking to, Bruno Gentile, was a programmer who said, "Well, that should be pretty easy to do."
[Editor's note: 3CH generates subjects for speedpaintings by combining nouns and adjectives at random. Typical examples include 'a reluctant voodoo wizard breathes on a prison guard in a cemetery of wrecks' and 'a Nazi queen charms a raptor through brain neurons'.]
It was a revelation for us. Not only was it addictive—we couldn't stop pressing the Generate button, new stories kept coming—but because of the difficulty of the subjects, we were forced to push our artistic abilities.
CGC: So you've worked on Hollywood movies, you've set up your own company, and you're about to become a director. Of all of those things, what motivates you the most?
DL: I think the biggest joy is to see people enjoying the work you've done, without them knowing that you did it. It's almost like voyeurism.
I remember very clearly going to see TRON: Legacy for the first time, and outside, once the movie was done, I saw some kids who were just completely, insanely happy, chasing each other on bikes. I think that was the biggest inspirational moment I'd ever had.
It reminded me of when I went to see Return of the Jedi when I was a kid. It seemed like this world did exist, that spaceships really did exist, and I think it was that spark of imagination that got me to do the job that I do. I hope to create that same spark in the kids that see the movies I work on.
SB Explore takes place in New Orleans from 22-26 May. Entry to the three-day workshop costs $399; the workshop plus the VIP tour costs $599. Steambot Studios is offering CG Channel readers a $150 discount on the price of a three-day ticket: click here for more information, or enter the code cgchannel when you register.
Register for Steambot Studios' SB Explore workshop
(Enter the code cgchannel when you register to claim $150 off the price of a three-day workshop pass.)
Visit the Steambot Studios website
Visit David Levy's personal website
Full disclosure: CG Channel is owned by the Gnomon School of Visual Effects.
Tags: advice, career, Concept Art, Concept Artist, creativity, David Levy, digital painting, Ender's Game, interview, Plug, Prometheus, Q&A, Steambot Studios, tips, Tommorowland, TRON: Legacy, vyle