Thursday, October 25th, 2012

Posted by Jim Thacker
Thinkbox Software launches free video-editing app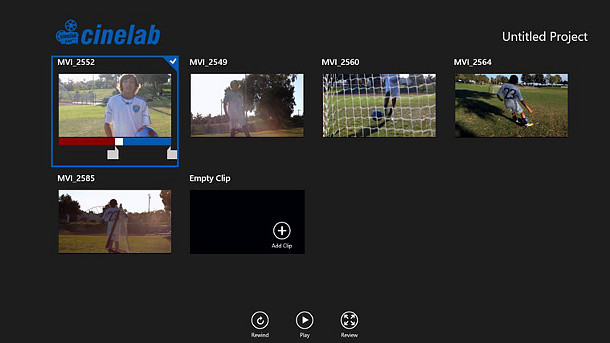 Thinkbox Software has launched Cinelab, a new free video-editing app for Windows 8 devices.
Cinelab is novel in two regards: first, it's the most consumer-oriented tool we've seen from Thinkbox, previously best known for tools like Deadline and Krakatoa; and second, it's one of the first such tools solely for Windows.
(At time of writing, Microsoft's new Windows 8-based Surface tablet is due to go on sale in just over an hour.)
The interface draws inspiration from Windows 8's Modern UI, and focuses on ease of use. The feature set is very basic, but you can upgrade it for $1.99.
As yet, we can't see any information online about what happens when you do, but we'll update if we hear more.
PRESS RELEASE (Excerpts)
Thinkbox Software today launched Cinelab, a new video-editing app for Windows 8 devices. Cinelab delivers simple, on-the-go video editing capabilities directly from any supported tablet, mobile device or desktop computer.
Inspired by the new Windows user interface, Thinkbox founder Chris Bond set out to design an easy-to-use editing app that would enable people of any skill level to trim and cut together clips, and share them directly from Windows 8 devices. Using a very simple touch interface, users can rearrange clips by moving them around on screen, tap them to play, and shorten the length by moving handles on a bar directly beneath the clip. Rearranged and trimmed clip sequences can be shared via SkyDrive and email.
"?The elegance of Cinelab is in its simplicity. The app really takes advantage of the new Windows UI to create an incredibly easy and intuitive video-editing tool. Windows 8 was designed to provide an environment conducive to creativity, and Cinelab is one of the many apps that will help customers of any technical level get there very quickly,"? said John Richards, senior directior of Windows App Marketing for Microsoft Corp.
"The developers of Cinelab have been working in professional visual effects for many years, and drew on their own experience with industry-leading editing tools from the most elementary to the highest end, to bring a great user experience to Windows 8 customers. ?The development of Cinelab was something that came together quickly. Our combined creative experience and development of professional tools for filmmakers combined with this new interface allowed us to develop an editorial tool that is completely different. We created a tool that we would want to use to edit with ourselves with enough built-in flexibility that professionals, amateurs and children would equally find approachable and useful,?" explained Chris Bond, founder, Thinkbox Software.
A free version of Cinelab is available through the Windows Store, allowing customers to edit and share their videos; extended features are available via an upgrade through the Windows Store for $1.99.