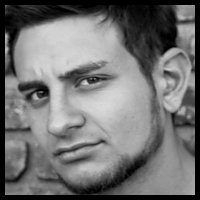 Luca Nemolato is one of the rising stars in the world of concept art. Born in Italy, he studied at the US's Gnomon School of Visual Effects before landing an internship at influential pre-viz and concept design studio The Aaron Sims Company, where he is currently working on as-yet unreleased projects for Warner Bros and 20th Century Fox.
According to studio founder Aaron Sims, Nemolato "has become one of my most pioneering artists. His innovative approach to design and his outside-of-the-box approach truly separates his work from other artists. I've enlisted his design work for my personal projects, but once his [commercial] work is released and is accessible to the public, I believe everyone else will see the true talent that Luca possesses."
That sounded like a pretty strong recommendation to us, so we caught up with the 20-year-old digital sculptor and illustrator to chat about his career so far, and his tips for other would-be concept artists.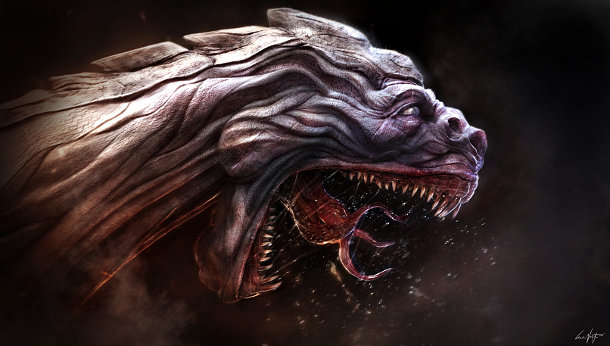 One of Luca's personal images. Although most of the commercial jobs he has worked on are still unreleased, concept art legend Aaron Sims says his 'out-of-the-box' approach separates his work from that of other artists.
CG Channel: You were already doing a lot of freelance illustration work before you left high school. Tell us about your early education.
Luca Nemolato: I did five years of artistic high school in Italy, but I wasn't really happy with instruction I had: the artistic level of the school was really low. But I had the chance to work as a freelance illustrator and concept artist for the advertising industry in Italy from the age of 16 onwards, for companies from Naples to Milan.
I was the cover artist for some issues of PC Magazine, I did illustration for EmmeDesign in Caserta and The Beef in Milan, and I also did concepts and storyboards for Brother&Brothers in Naples.
CGC: What made you decide to move to the US?
LN: At the Gnomon School, I had the chance to study creature and character design with Jerad Marantz and Mark DeDecker. I also learned how to create realistic creatures and characters using 3D software such as ZBrush and Maya. I couldn't learn these things in Italy because these fields are almost nonexistent there.
CGC: When you first arrived, you worked in a tattoo studio. How come?
LN: The first week I moved here, I found this tattoo shop called Blue Horseshoe Tattoo in the heart of Hollywood. I did a couple of months of apprenticeship there, which actually taught me a lot about color blending and really made my drawings cleaner. I also learned a lot about skin: something that is really helpful for creature and character design, especially when it comes to texturing my models.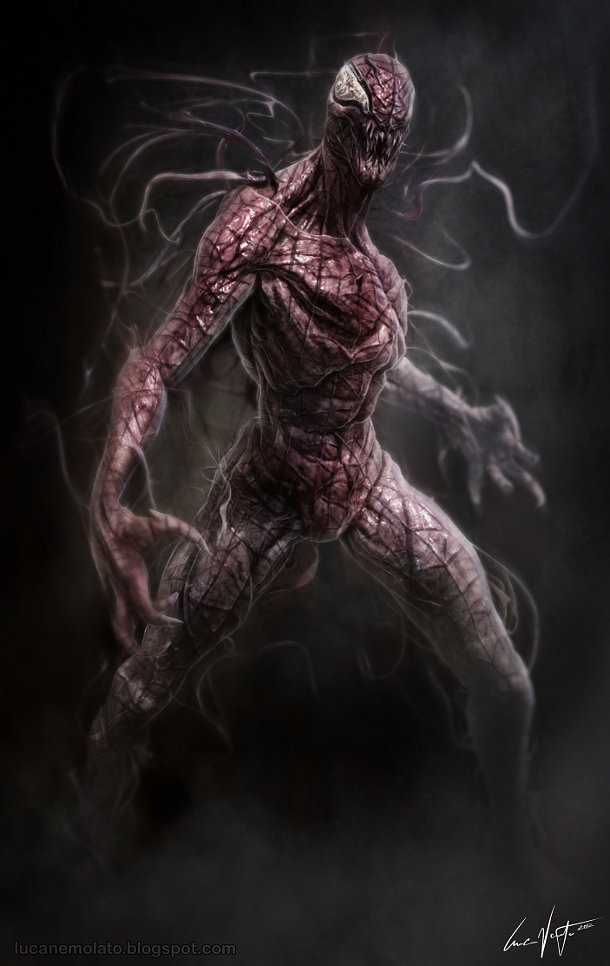 After studying at the Gnomon School of Visual Effects, Luca landed an internship at The Aaron Sims Company.
CGC: How did you feel when you got the internship at The Aaron Sims Company?
LN: It was one of the best days of my life. I couldn't believe that I was working for my idol. I'd seen Aaron in The Gnomon Workshop's DVDs, and I was fascinated and inspired by his work. Learning directly from him and his great team of artists is a real honor.
CGC: Most people are a few years older when they get their first job in the industry. What do you think made your work stand out?
LN: Dedication and passion, I think. That's what made me leave my country to come so far away and risk so much for my dream. I try to push my knowledge as far as I can every time.
CGC: What projects have you worked on while you've been at the studio?
LN: I've worked as a character and creature designer on some movies that are not out yet, but which have been officially announced, such as All You Need Is Kill, 300: Battle of Artemisia and I, Frankenstein. I also did some concepts for the TV series Falling Skies and I worked on a couple of commercials. And I'm really happy to say that I'm currently working also on some of Aaron's personal projects.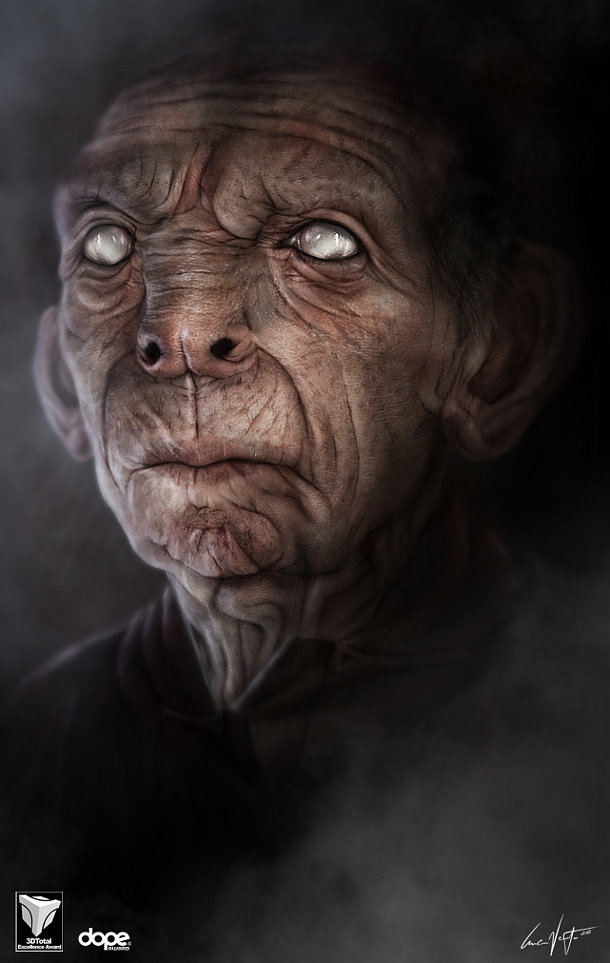 Luca's 'Ratman' image: the subject of a popular tutorial on 3DTotal.
CGC: What has the experience at The Aaron Sims Company taught you?
LN: Almost everything I know now! I've learned so much from all the artists in the company: they've taught me lots of techniques for sculpting creatures in ZBrush and different techniques for rendering them.
CGC: Speaking of which, your 'Making of Ratman' tutorial is currently getting a lot hits on 3DTotal. Does that show a typical concept art workflow for you?
LN: The workflow for that creature is one of the techniques I use for my concept art, but it isn't the only one. Another technique is to do a tighter sculpture in ZBrush and put as much information as I can into it so I can spend less time texturing in Photoshop. It achieves cleaner, more solid results than combining different photos and trying to achieve a consistent image. But the technique I showed in the 3DTotal tutorial is a pretty fast one: that particular image only took one day to create.
CGC: What benefit do you get from doing a base sculpt in ZBrush rather than working solely in Photoshop?
LN: It gives me a great base to work from that would take much longer to achieve in other ways. But the most important thing that a sculpt gives me is the freedom to create all the forms and shapes I want, and to unify everything in one solid, consistent image that I finalize in Photoshop.
The mix between rendered sculptures and photographic elements is the key for all my concepts. It's using the right photo in the right place that makes the image feel realistic. The secret is to not dirty the image by using too many photos : it's better to use fewer photos from the same source to achieve continuity in your final image.
CGC: What's your favorite technical tip?
LN: One of my favorite tricks to blend photos of animal skin onto my sculpture in order to make a creature feel more realistic. You can texture your creature in Photoshop, usually using photos of animal skins applied via the Soft Light blending mode, or you can use the combination of Polypaint and ZAppLink in order to texture your creature directly in ZBrush. Which one I choose depends on the time I have available, since applying the textures in Photoshop is faster than doing so in ZBrush.

The first of Luca's jobs for The Aaron Sims Company to be released publicly: the USDA 'Hungry Pests' commercial. He has also worked on upcoming movies 300: Battle of Artemisia and I, Frankenstein.
CGC: And finally, what's your ultimate dream job in the industry?
LN: Right now my dream job is to work here at the Aaron Sims Company, together with the best in the business and my idol Aaron. I'm really looking forward to being able to show more of my professional work publicly.
Visit The Aaron Sims Company online
Tags: Aaron Sims, Concept Art, interview, Luca Nemolato, Photoshop, Q&A, technical, The Aaron Sims Company, tips, tricks, ZBrush