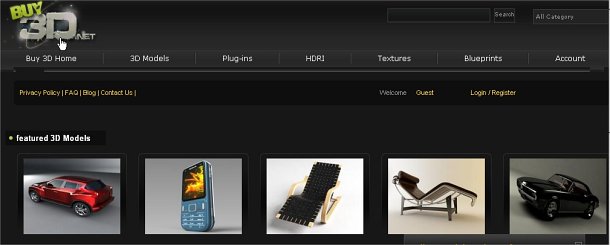 New online marketplace Buy3d.net is offering vendors up to 80% of the royalties on models sold through the site.
The site offers users a platform through which to buy or sell a standard range of digital assets, including models, textures, HDRIs, scripts, plug-ins and – more unusually – blueprints. (Although the latter section of the site was empty when we visited.)
Buy3d.net also provides a standard comment and review system for assets sold through the site; and options to purchase through Moneybookers or PayPal.
And with a royalty rate of 75-80% according to sales volume, the site compares favourably to similar services such as TurboSquid (40-60%) or 3d02.com (55%).
Of course, both TurboSquid and 3d02.com are established services with a proven track record and a large library of models, while it remains to be seen how Buy3d.net will perform. If anyone registers with the site, let us know how you get on.