Monday, April 4th, 2011

Posted by Jim Thacker
TurboSquid to merge with Falling Pixel, Exchange3D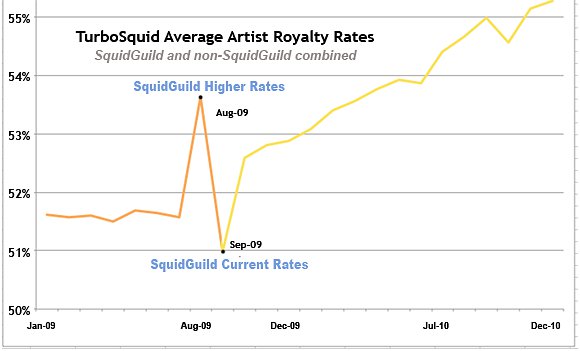 TurboSquid's intention to merge with rival marketplaces has renewed debate about the site's royalty rates.
TurboSquid has announced its intent to merge with rival online marketplaces Falling Pixel and Exchange3D.
The merger would bring three of the leading online venues for artists to sell models and textures under single ownership. You can read the company's official press release about it here.
The move, which was promoted in a press release last week, but announced to the user community earlier in the month, gives TurboSquid a stronger presence in the Europe: Falling Pixel is based in the UK, while Exchange3D is based in Russia, and specialises in sales to its local market.
Arguments online
The news has renewed debate about TurboSquid's conditions of use: the site pays a 40% royalty rate to Basic members, but higher rates to artists who agree to sell their content exclusively through the site. In contrast, many competing sites pay higher royalty rates – 3d02.com offers 55%, for example – and do not promote exclusivity schemes.
From 1 May, TurboSquid's royalty rates will also be applied to Falling Pixel and Exchange3D.com.
In support of its rates, TurboSquid cites the services it offers its users and the search engine optimisation work it does to ensure sales, as set out in this blog post.
Users of rival sites disagree, resulting in a fascinating thread on the site 3D Stock Talk, in which The3DStudio.com founder Matt Anderson and Falling Pixel founder Jonathan Lloyd trade verbal blows.
You can read Matt Anderson's opening post here.
And you can read Jonathan Lloyd's initial responses here and here.
The debate covers a lot of ground, and both sides question the factual accuracy of points made in the early posts over the course of the thread, so it's well worth reading to the end.
Hat tip to Max Underground for spotting this thread.