Thursday, September 30th, 2010

Posted by Jim Thacker
George Lucas to release Star Wars movies in 3D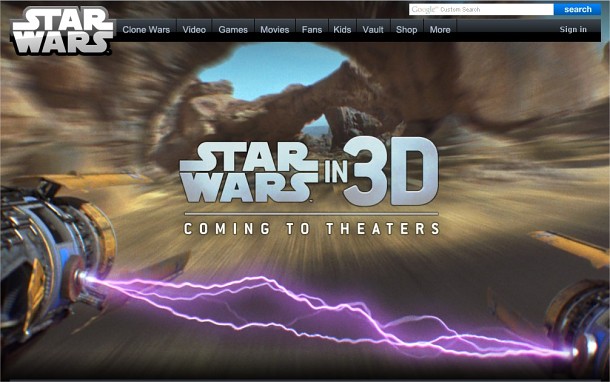 The entire Star Wars series is to be converted into stereoscopic 3D, George Lucas has announced.
Star Wars: Episode I – The Phantom Menace is expected to be released theatrically in 2012, although the release date is yet to be confirmed. The other movies will follow later.
"The cutting-edge conversion will take that immersion to the next thrilling level," claims a statement on the official Star Wars site. "There are few movies that lend themselves more perfectly to 3D; from the Death Star trench run to the Tatooine Podrace, the Star Wars Saga has always delivered an entertainment experience that is completely immersive."
Response from fans has been mixed. According to the BBC, actor and science-fiction fan Simon Pegg – who plays Scotty in the latest Star Trek movie – commented:
"Watching TPM [The Phantom Menace] in 3D would be like the car actually crashing into your face as opposed to just unfolding before your eyes."
As might be expected, Industrial Light & Magic will supervise the conversion process.
"Getting good results on a stereo conversion is a matter of taking the time and getting it right," said VFX legend John Knoll, visual effects supervisor for Industrial Light & Magic.
"It takes a critical and artistic eye along with an incredible attention to detail to be successful. It is not something that you can rush if you want to expect good results. For Star Wars we will take our time, applying everything we know both aesthetically and technically to bring audiences a fantastic new Star Wars experience."
Click here to watch a video interview with John Knoll about the stereo conversion
Click here to read the announcement on the Star Wars website