Saturday, December 10th, 2022

Posted by Jim Thacker
Autodesk ships Flame 2023.3

Originally posted on 14 April 2022. Scroll down for news of the Flame 2023.3 update.
Autodesk has released Flame 2023, the latest version of its compositing, finishing and effects software, updating the UI to improve workflow on HDR monitors, and redesigning the Animation Channel Editor.
Flame can now also be deployed in the cloud via Amazon's AWS platform.
The other products in the Flame family – the two cut-down editions of Flame, Flame Assist and Flare, and colour grading tool Lustre – have also been updated.
Flame family products now officially supported in the cloud
The headline change in the Flame 2023 releases is that the entire family of products, with the exception of Lustre, can now be deployed in the cloud as an alternative to on-premises hardware.
The software has been tested on Amazon's AWS cloud platform, but the online FAQs suggest that it may also be possible to deploy Flame products on other cloud platforms.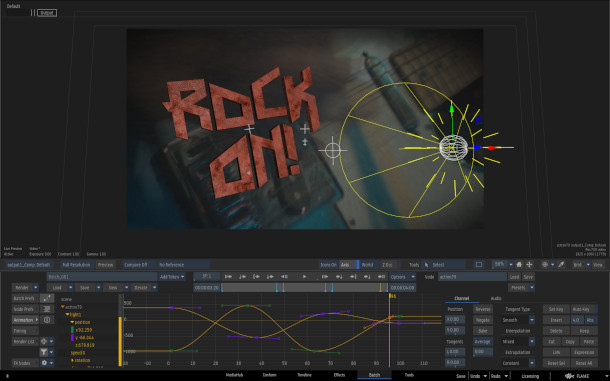 New HDR mode for the UI, and a redesigned Animation Channel Editor
The update doesn't add new toolsets to the software itself, with the biggest changes being UI updates.
The design style of the UI has been refreshed, with the "venerable Discreet font" getting a more modern replacement; and the UI can now be switched to HDR mode, to make it easier to use on HDR monitors.
The Animation Channel Editor has been overhauled, introducing more standard naming for individual views – 'Channels' becomes 'Curves' and 'Tracks' becomes 'Dope Sheet' – and a list of workflow improvements.
In particular, when working with animation curves, all of the canvas framing options are grouped under a single button, and the filtering system has been "completely overhauled".
All channel operators can now be applied from a contextual menu, making them available from viewports.
Support for Apple Silicon Macs via Rosetta, and for Rocky Linux
The Flame products are now supported on new Apple Silicon Macs, albeit via the Rosetta 2 emulator rather than native Apple Silicon support.
Autodesk also now supports Rocky Linux as a replacement for the now-discontinued CentOS.
Other changes include a move from Python 3.7 to 3.9, and updated support for BMD, RED and Sony RAW.
You can find a full list of updated and discontinued features – archiving to tape is now deprecated – via the links at the foot of the story.

Updated 14 July 2022: Autodesk has released Flame 2023.1.
The release further updates the Animation Channel Editor, with changes including new keyframe indicators and better keyframe selection and filtering, as shown in the video above.
There are also updates to project management, storage preferences and the Python API.

Updated 30 October 2022: Autodesk has released Flame 2023.2.
It's largely a usability update, with workflow improvements including a new Edit Box for scaling keyframes in the Animation Editor and the option to search for nodes in the Schematic.
Workflow with multi-channel clips, like EXRs, has also been streamlined, as shown in the video above.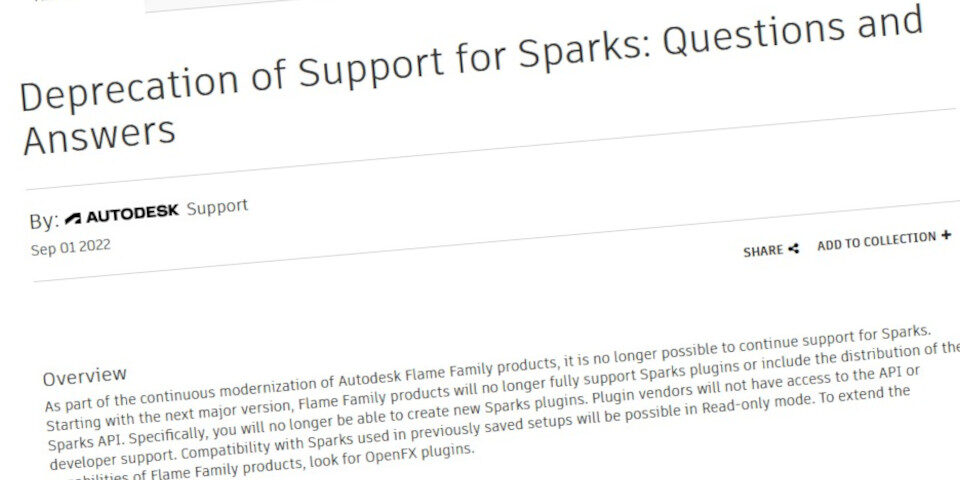 Updated 8 December 2022: Autodesk has released Flame 2023.3.
The update adds one new feature when deploying Flame in the cloud: support for AWS Cloud Digital Interface (AWS CDI), AWS's network technology for streaming uncompressed video with low latency.
Perhaps more significantly, Autodesk has announced the platforms that will be deprecated in the next major release of the software, presumably Flame 2024.0.
For Mac users, the oldest version of macOS supported will become macOS 11.0; for Linux users, CentOS 7.6 will be deprecated in favour of Rocky Linux 8.5.
In addition, the old Sparks API for Flame plugins will be deprecated in favour of OFX, which Autodesk began supporting in the Flame 2020 releases.
Projects that include Sparks plugins will still load in future versions of Flame, but it won't be possible to edit any of the plugin parameters.
However, it should only be an issue for artists with 'old favourite' plugins that are no longer in active development: as far as we're aware, most major Flame plugin developers have already switched to OFX.
Pricing and availability
Flame 2023.3 is available for CentOS 7.6 or Rocky Linux 8.5 and macOS 10.15+ on a rental-only basis. Since Flame 2022, the cost of subscriptions has risen to $580/month, up $30/month, or $4,635/year, up $220/year.
Flare 2023 and Flame Assist 2023 are also available for CentOS 7.6 or Rocky Linux 8.5 and macOS 10.15+. Single-user subscriptions now cost $2,470/year.
Lustre 2023 is only available on CentOS 7.6 or Rocky Linux 8.5. A single-user subscription costs $4,635/year.

Read a full list of new features in Flame 2023.0 to 2023.3 in the online documentation
Read Autodesk's FAQs about running the Flame family of products in the cloud
Read Autodesk's FAQs about the deprecation of Sparks plugins for Flame