Friday, November 18th, 2022

Article by CLO Virtual Fashion
Q&A: Marvelous Designer specialist Michele Ahn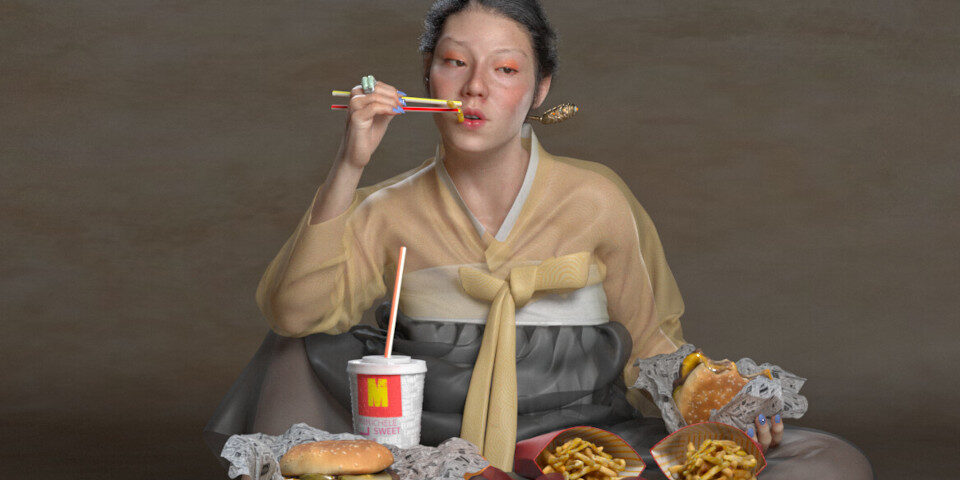 [Sponsored] Tippett Studio texture/look dev artist Michele Ahn reveals how she uses Marvelous Designer in her work, and how the 3D clothing design software has helped her to push through creative challenges.

The go-to 3D fashion design software for many movie and videogame artists, Marvelous Designer enables users to create 3D clothing by stitching together 2D pattern parts and draping them over a virtual avatar.
Its developers have spent the last few years listening to their user base and incorporating that feedback in all areas of the software. With Marvelous Designer 12, the latest release, the result is a more versatile, user-friendly application that gives designers, artists, animators and anyone who creates cloth and texture-based art a unique creative outlet.

One such artist in Michele Ahn, a texture/look dev artist at leading visual effects and animation company Tippett Studio. In this interview, she reveals how she uses Marvelous Designer in her personal and professional work, how teaching the software challenges her creatively, and her advice to artists using tools like Marvelous Designer for the first time.

Tell us a little bit about yourself.
I've been working in the industry for two years. I mainly work as a texture and look dev artist in film and TV.
How did you become a 3D artist?
I always loved storytelling, so going into animation allowed me to create little worlds for myself without limitations. However, getting a gig right out of college took a lot of work, so I returned to school at Gnomon, specialising in modelling and texturing. That's how I could refine my skills and get into the industry.
What inspires you as an artist?
Other people's art; just seeing what's out there. Other artists get better, and younger. You think, 'Oh my gosh, that's such a crazy piece,' and then you find out they're 16.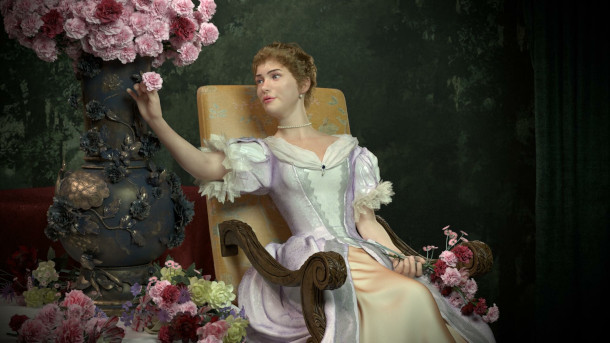 A personal piece based on Władysław Czachórski's painting The Blossom of Youth, with 3D clothing created in Marvelous Designer. Michele created it in order to play with a wide range of textures and shaders.

How does Marvelous Designer fit into your project pipeline?
I usually start with Marvelous Designer, where I do 85% to 90% of the work. Then I bring it into Maya, where I transfer the details of the high-definition model to a low-res version to create clean UV topology. Then I move over to ZBrush to add micro folds, all of that stuff.
I try not to alter a lot of what I do in Marvelous Designer. I spend most of my time designing in Marvelous Designer, then I just have to bring out the qualities of that design.
How do you push through creative challenges?
When it comes to professional work, you have to be creative wherever you can. Some tasks have to be done precisely as requested. But on others, you have way more freedom than many artists realise.
There are always going to be opportunities to create a little story behind an asset. Recently, I worked on a cup, and I had to think about what kind of fingerprints were on it. How do you usually hold a cup of that shape? Things like that help me get through tasks that might otherwise be tedious.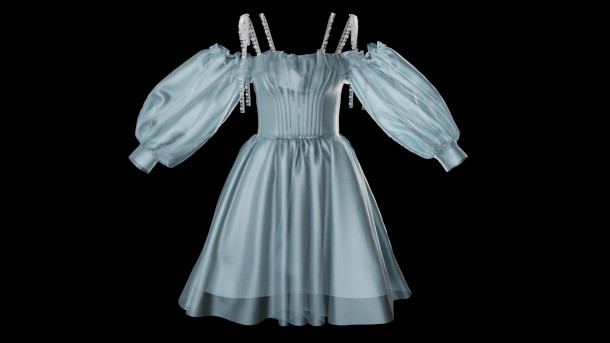 A dress Michele created for a tutorial on the Marvelous Designer YouTube channel to demonstrate a workflow using the software that is compatible with a visual effects production pipeline.

What advice would you give artists early in their careers on dealing with creative challenges?
Teaching helps. I taught briefly over the summer, which allowed me to get back to doing my personal pieces. If you have an opportunity to teach, take it, because it will enable you to jog with students.
Tell us more about your teaching experience.
I was teaching Marvelous Designer. The students were super-excited, and they picked up the program so quickly. I was amazed because the first thing I created using the software was a T-shirt, and it was falling off of the avatar's body. It didn't make me think I had a future in it.
Teaching kept me on my toes. It allowed me to do some personal pieces side by side with the students to see how long it would take to do something in their timeline. It's super-hard! So I have a lot of empathy for the students, and it's fantastic to see the work that comes from the classes.
The most rewarding thing is to have somebody who knew nothing about the Marvelous Designer be very comfortable with the software at the end. That's a massive accomplishment for anyone.
How has teaching Marvelous Designer changed the way you use the software?
I was using lessons pre-recorded by another instructor that the students would watch. Then I would give them weekly Q&A sessions. So I had to watch how the other instructor was using Marvelous Designer, and it was so interesting because he used some methods that weren't technically 'right', but were very creative.
Sometimes I felt like I was learning right next to the kids because the other instructor is a very talented 3D artist who didn't come from a fashion background, and that's also how the students were approaching it. They didn't know pattern-making. The logic of building actual clothing went out the window; they were just trying to make things look good. I think this approach actually allowed for more successful results.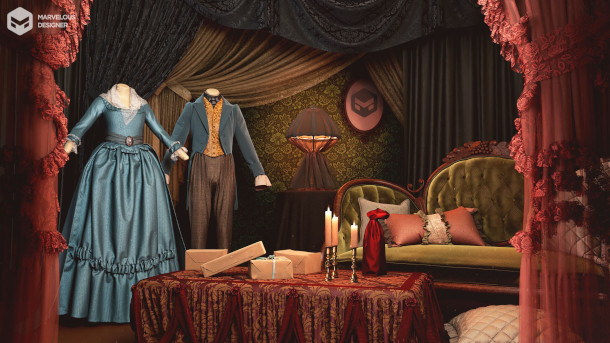 A piece created collaboratively with the Marvelous Designer team for the release of Marvelous Designer 12 to showcase the range of 3D assets that can be created inside the software, from clothing to curtains.

How can artists practise being less critical of themselves?
When you're starting out, don't try to wow people. No matter how hard you try in your first year or two of using a 3D program, it's never going to be your best work. You have to remember that it's a learning process. Wait five or ten years. Then you'll have a lovely array of work you can choose from.

Marvelous Designer 12 is available for Windows and macOS. Personal licences are available for individual artists, including for freelance work, while Enterprise licences are available for studios of all sizes.
Visit the Marvelous Designer website for more information about the software