CG news site 3DVF's interview with Pixar marketing manager Dylan Sisson at Siggraph 2022.

RenderMan 25 will feature the AI denoiser developed at Disney Research and used on every Pixar movie since Toy Story 4, including the studio's most recent animated feature, Lightyear.
The news was revealed by Pixar's marketing manager for RenderMan, Dylan Sisson, during an interview with French CG news site 3DVF at Siggraph 2022, clips from which have just been posted online.
RenderMan 25, the next major update to the production renderer, is due to ship later this year.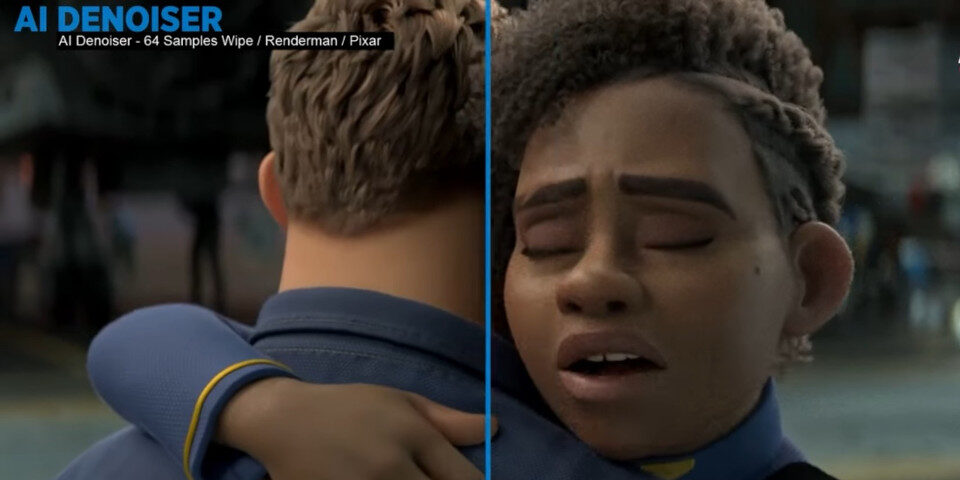 A machine-learning-based temporal denoiser used in production at Pixar, Disney and ILM
Developed at Disney Research, RenderMan's new AI denoiser has been used in production at Pixar itself since 2019's Toy Story 4.
According to this 2019 ACM Siggraph presentation, the new denoiser – also used in production at Walt Disney Animation Studios and Industrial Light & Magic – reduced render times "by a factor of 2 to 4" compared to Pixar and Disney's previous denoisers.
It's a temporal denoiser, with its neural network trained on "thousands of 7-frame sequences … from multiple renderers, productions, and studios", and has both CPU and GPU implementations.
RenderMan XPU to be updated in RenderMan 25, but still won't be in RenderMan Non-Commercial
In the 3DVF interview, Sisson also talks briefly about the "next phase" of RenderMan XPU, the CPU/GPU rendering system introduced in RenderMan 24, broadening "the type of scenes that XPU can handle".
"When we look at potentially combining the speed of XPU with [the] AI denoiser in interactive mode, it really is going to be interesting to see," he said.
Sisson also revealed that the free Non-Commercial edition of RenderMan 25, due for release alongside the commercial version, will still be based on the older RIS rendering architecture, and will not feature XPU.
Pricing, system requirements and release dates
RenderMan 25 is due for release "by the end of the year".
The stable version, RenderMan 24.4, is available for Windows 10, macOS 10.13-10.15 and CentOS/RHEL 7.2 Linux. Integrations are available for Maya, Houdini, Katana and Blender. Perpetual licences cost $595.
Read more about RenderMan on Pixar's website
(No more information about RenderMan 25 at the time of writing)
Tags: AI Denoiser, AI-based, CPU/GPU rendering, free edition, Industrial Light & Magic, Lightyear, machine learning, new features, Pixar, price, release date, render denoising, RenderMan, RenderMan 24.4, RenderMan 25, RenderMan 25 Non-Commercial, RenderMan Non-Commercial, RenderMan XPU, Siggraph 2022, system requirements, Toy Story 4, Walt Disney Animation Studios