Color Intelligence's introduction to Look Designer 2, its plugin for emulating the look of analogue film in DaVinci Resolve and Adobe software. Version 2.6 of the software has now been released.

Color Intelligence has released Look Designer 2.6, the latest version of its powerful plugin for emulating the look of analogue film inside software including DaVinci Resolve and After Effects.
A powerful tool for recreating the beauty of analogue film inside digital tools
We've never previously covered Look Designer on CG Channel, although we have written about Color Intelligence's other key product, disruptive AI-based grading software Colorlab AI.
Look Designer is a simpler proposition: it's a plugin for recreating the look of celluloid film, but one that provides much more granular control than just applying a LUT matching a particular film stock.
Color Intelligence describes it as an attempt to preserve "the beauty of the analogue film format", putting the "skill of analogue film lab processing in the hands of today's digital filmmaker".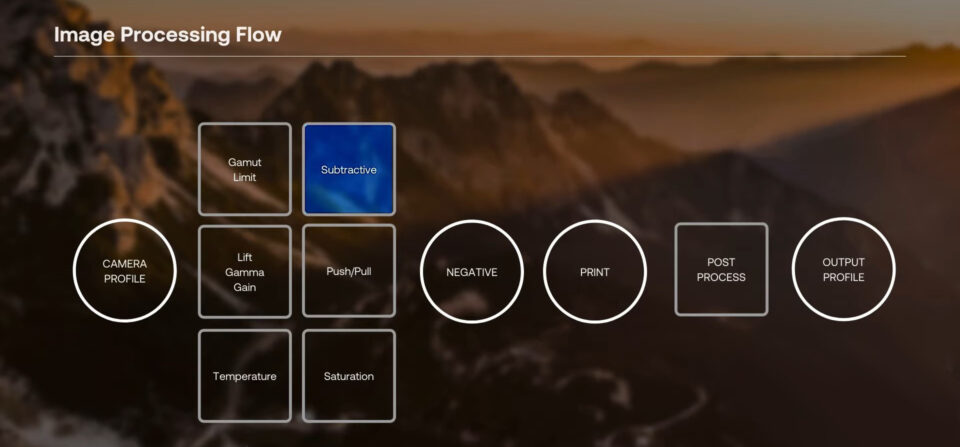 Mimic the look of real-world cameras, negative and print stocks, and post effects
You can see how the plugin works in the diagram above: as well as different types of film stock – both negative and print stocks – Look Designer also mimics real-world cameras and post-process effects.
Users begin developing a look by choosing presents matching a specific camera, negative stock and print stock, then fine tune them using controls to adjust properties like lift, gamma, gain and saturation.
The software uses a substractive CMYK colour model emulating colour processing by real film emulsions.
New in Look Designer 2.6: new Crunch control and Cinetone and Photone profiles
To that, Look Designer 2.6 adds a Crunch control, a new interactive control "emulating [the] high-contrast behaviour of [the] film print process", and new negative, print stock and camera profiles.
At the time of writing, the changelog on the Color Intelligence website hasn't been updated, but this is the complete list from the firm's email newsletter:
Cinetone Profiles 
A new category of negative profiles designed and used by the iconic Hollywood post studio.
Phototone Profiles
A new category of film emulation profiles inspired by Fujifilm street-style photography, now available for every digital camera.
Kodak 2398 MPF
A unique lab-designed film stock profile.
Arri C4 Support
Fully integrated Arri 35 pipeline.
Sony Venice Support
Advanced tonal and gamut mapping adapted to a new firmware update of this camera.
New ACEScct 709 ODT
Matching the output of an ACEScct colour pipeline.
Pricing and system requirements
Look Designer 2.6 is available in two editions: an OFX edition compatible with DaVinci Resolve on Windows, Linux and macOS and an Adobe Edition compatible with After Effects and Premiere Pro on macOS only.
Both editions cost $490 for a perpetual licence; rental costs $24/month or $290/year.
Read more about Look Designer on Color Intelligence's website
Tags: After Effects, cinematic look, Cinetone, color correction, color grading, Color Intelligence, color temperature, Colorlab AI, compositing, crunch, DaVinci Resolve, gain, gamma, lift, Look Designer, Look Designer 2, Look Designer 2.6, LUT, negative stock, new features, OFX, Phototone, plugin, post effect, post processing, Premiere Pro, price, print stock, recreate the look of analog film, saturation, substractive CMYK, subtractive color mixing, system requirements