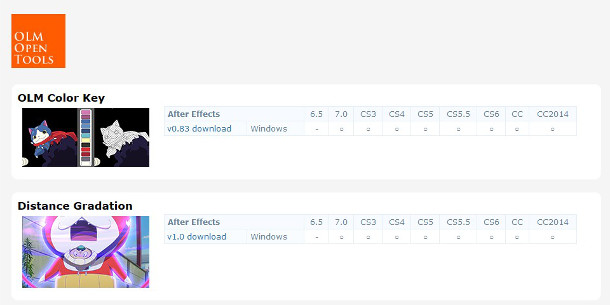 Japanese studio OLM Digital has released two new free After Effects plugins tailored to 2D animation work as part of its OLM Open Tools project.
OLM Color Key builds on the studio's existing Color Keep keying plugin, which enables artists to specify which colours they want to retain when keying, not those they want to key out.
The new plugin provides more control over edge width and feathering for more customisable results.
Its sister plugin, Distance Gradation, generates gradated effects according to the distance from the edge of an alpha channel, and can be used to quickly create glows and light flares around objects.
Both plugins work with After Effects 7.0 and above on Windows and Mac OS X.
Read more about OLM Color Key and Distance Gradation on OLM Digital's website
Tags: 2D, After Effects, animation, anime, cel shaded, Distance Gradation, download, free, glow, keying, light effect, OLM Color Key, OLM Digital, OLM Open Tools, plugin