Monday, October 26th, 2020

Posted by Jim Thacker
Rookies 2020 rankings reveal world's best CG schools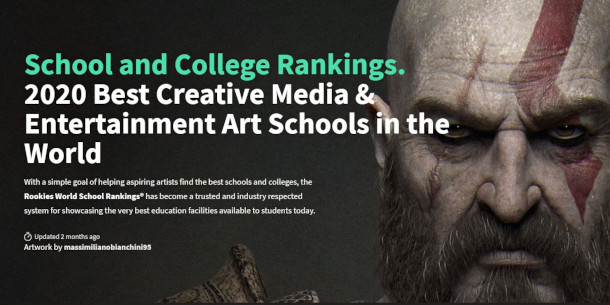 International student awards scheme The Rookies has announced the Rookies World School Rankings for 2020, its tenth annual list of the world's best CG schools, rating over 500 schools in 88 countries.
The USA's Gnomon topped the overall list of the world's Best Creative Media and Entertainment Art Schools, also placing first in the visual effects rankings for the fourth year running.
Gnomon also placed second in the 3D animation category, losing out to fellow US school Ringling.
Other key category winners include Canada's Syn Studio for concept art and Think Tank Training Centre for game design, and Denmark's 3D College for architectural visualisation.
One of the world's most comprehensive ranking schemes for CG schools
Since its foundation in 2009, The Rookies – formerly known as the CG Student Awards – has grown to become one of the world's largest and most prestigious awards schemes for young CG artists.
The 2020 awards attracted entries from 3,769 students worldwide, up 6% on last year.
Students' portfolios were rated by a panel of 130 judges, primarily working VFX, games and concept artists.
Individual entries were scored on a range of creative and technical criteria, with the heaviest weighting assigned to employment potential, and a median score calculated for each school.
Further bonus points were awarded for each of a school's students reaching the list of finalists for a category.
As with any subjective rankings, individual results are open to debate, and a school's scores are obviously affected by the extent to which it encourages its students to enter for the awards.
However, the Rookies' scoring system is transparent, consistent from year to year, and based on a large pool of data, making its rankings the best guide we're aware of to the quality of schools worldwide.
An asterisk indicates that the school also placed first in 2019.

Individual categories reveal world's best VFX, animation and game design schools
In the individual disciplines, there was relatively little change between the 2019 and 2020 rankings: Gnomon retains its top spot for VFX, Think Tank Training Centre for game design and 3D College for arch viz.
While animation has now been split into separate categories for 2D and 3D animation, last year's highest-placed school, SVA, takes top spot in the 2D animation list.
The only change was in the concept art category, with last year's highest-placed school, The One Academy, just being pipped to the post this year by Syn Studio.
In addition, the categories for 'production excellence' introduced last year, and based on the performance of the group projects created at a school rather than its individual students, have been repeated.
Not all of them reach a full complement of 10 schools, but you can see the results in the VFX and animation categories game design categories and for game design on the Rookies website.
Gnomon ranked world's best CG school overall
The Rookies has also now introduced a new category for the overall best Creative Media and Entertainment School in the world, also won this year by Gnomon.
Clearly, larger schools with a wide range of training courses are at an advantage over smaller specialist colleges, and some well-known schools are absent. In addition, neither China nor Japan features.
However, the list feels like a pretty good guide to the world's best CG schools – 50 of the best, if not necessarily the definitive 50 – inclding institutions in 18 countries across Asia, Europe and North America.
Read full listings of the world's best CG schools in 2020 on The Rookies website

Full disclosure: CG Channel is owned by Gnomon.