Saturday, July 18th, 2020

Posted by Jim Thacker
Autodesk releases RV 7.8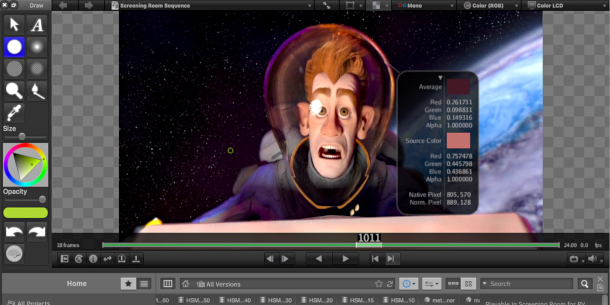 Originally posted on 2 October 2019. Scroll down for news of the 7.8 update.
Autodesk has released RV 7.5, the latest version of the image viewer and shot playback system provided with its Shotgun production tracking system.
The update aligns RV with the VFX Reference Platform, introducing support for Qt 5, the current version of the GUI toolkit, plus PySide 2, its Python binding.
A high-performance image viewer and playback system for VFX and animation production
Originally developed by Tweak Software and acquired by Autodesk in 2015, RV is a high-performance image viewer and playback system designed for VFX and animation work.
The 7.5 release, described as a "major update" on the Shotgun blog, doesn't add any new features, but it does makes RV the latest application to adhere to the VFX Reference Platform.
The platform, overseen by the Visual Effects Society, and updated annually, specifies which versions of key open-source libraries should be integrated in VFX software, in order to minimise conflicts between apps.
Both Foundry and SideFX adhere to the spec in their product releases, as does Autodesk's other software.
In the case of RV, the big change is support for Qt 5.12, the version of the GUI toolkit specified in VFX Reference Platform CY2019, plus Python binding PySide 2.
According to the release notes: "Every aspect of RV has been affected by this port. Custom packages may need to be ported to Qt 5.12 and PySide2 in order to work with this release."
In addition, RV and RV-SDI, which provides SDI output for use in dailies screening rooms, are now provided on the same executable.

Updated April 2020: RV 7.7 is now shipping. The update adds support for digital camera manufacturers Blackmagic Design and AJA's current SDKs.
Since we last wrote about the software, Autodesk has also implemented support for the Apple ProRes and DNxHR codecs for media playback: a key user request.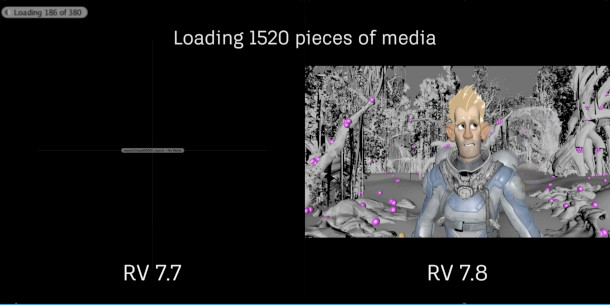 Updated 16 July 2020: RV 7.8 is now shipping. The update introduces a new progressive loading system, enabling users to start playing back individual media clips without having to wait for an entire playlist to load.
Autodesk says that the system enables users to begin playback "7–10x faster" than before, with its demo video showing the time to first pixel cut from seven minutes to 58 seconds for a set of 1,520 clips.

Pricing and system requirements
RV 7.8 is available for Windows, Linus and macOS. A floating or node-locked RV solo perpetual licence costs $299. Other standalone pricing is listed here.
A Shotgun subscription costs $30/account/month for an 'Awesome' account and $50/account/month for a 'Super Awesome' account, which provides extra security and support options. Both include RV.

Read more about RV 7.5 on the Shotgun blog
Read a full list of new features in RV in the online documentation