Corel has released Painter 2021, the latest update to its natural media digital painting software, adding 12 new AI-based style filters and a new Clone Tinting system.
The release also updates the software's layer workflow and its system for mimicking thick paint like oil and acrylic, and improves performance of common operations.
New AI-based Art Styles apply readymade looks to source photos
New features in the release include 12 new AI-based Art Styles. The core technology, originally introduced in Painter Essentials 7, uses style transfer to apply the look of a set of real-world images to a source photo.
Presets available include recreations of a particular medium, like charcoal or coloured pencil, drawing styles like short strokes or heavy brushwork, and abstract categories like Bold Architecture and Fabulous Animals.
Users can adjust the strength of the style transfer effect, colour matching and smoothing; and can overpaint the result to generate a more customised result.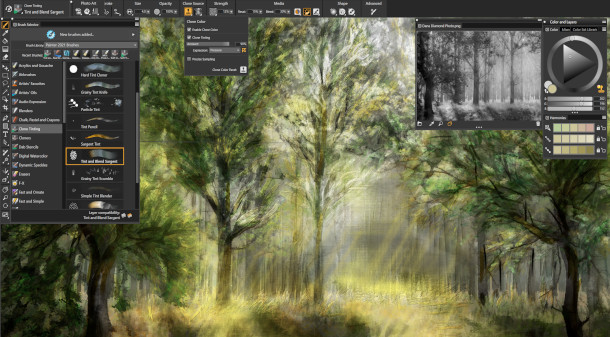 New Clone Tinting system
Other new features in Painter 2021 include Clone Tinting, shown in the screenshot above, which combines cloning and colour adjustment, "dynamically adding colour [from a] clone source".
The system works with any Clone brush, or with one of 14 new dedicated Clone Tinting brushes.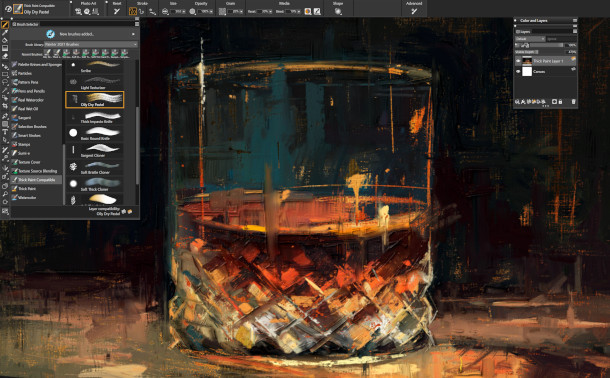 Updates to layer handling and thick paint workflow
The software's layer system, overhauled in Painter 2020, has been further updated with the option to paint on any layer type and hide the canvas directly from the New Image dialog.
In addition, Thick Paint and Watercolor layers can now be flipped or merged like conventional layers, while the UI gets new visual indicators to show which brushes are compatible with a layer type.
The thick paint system itself has also been overhauled, with Corel describing the output as "less plasticky", and a new curated set of 16 other brushes suitable for use on Thick Paint layers.
Performance improvements and support for Apple's Sidecar system
The Brush Accelerator utility added in Painter 2020, which runs an automated benchmark test and optimises settings on a user's machine accordingly, has also been updated, and now recognises more GPUs.
The update also adds more GPU-accelerated stamp brushes, and stamp operations are "up to 20x faster".
Among the CPU-based tools, "drip and liquid brush technologies" are now "up to 4x faster", and texture brushes are "up to 2x faster".
In addition, Mac users can now use the Sidecar system in macOS to connect an iPad as a second display, making it possible to paint on the screen like a miniature pen display, using the Apple Pencil stylus.
New annual subscriptions in parallel to perpetual licences
Outside of the application itself, Corel has also introduced new annual subscriptions for Painter.
They are being provided in parallel to perpetual licences, which Corel told us it has no plans to discontinue, acknowledging how divisive the issue of licensing is for many users.
"We don't want to force people into subscriptions," said senior product manager Chris Pierce. "We always want to offer choice."
An annual subscription currently costs $199/year, just under half the price of a perpetual licence, with subscribers also receiving exclusive free brush packs quarterly.
Pricing and availability
Painter 2021 is available for 64-bit Windows 10 and macOS 10.14+. New licences cost $429. Upgrades from any previous edition of Painter cost $229. Subscriptions cost $199/year.
GPU acceleration works with any GPU that supports OpenCL 1.2, although when we asked, Corel informally recommended a Nvidia GeForce GTX 1080 or better for professional work, or its AMD equivalent.
Read a full list of new features in Painter 2021 on Corel's website
Tags: acrylic, AI Styles, AI-based, Apple Pencil, Brush Accelerator, charcoal, Clone Tinting, colored pencil, Corel, digital painting, GPU-accelerated, GPU-based, Ink, iPad, layer system, macOS, natural media, new features, oil paint, Painter, Painter 2021, price, Sidecar, stamp brush, style transfer, subscription, system requirements, thick paint, watercolor