Adobe has released Photoshop 21.2, the latest update to the desktop version of the image-editing software, adding a neat AI-trained system for generating cutouts of human heads with a lot of loose hair.
Other changes include improved automatic font recognition in images, the option to rotate patterns, and workflow improvements to the Camera Raw plugin when editing photos.
The update was rolled out alongside Photoshop for iPad 1.5 and new versions of many of Adobe's other Creative Cloud applications, including Aero 1.5, Dimension 3.3 and Premiere Pro 14.3.
New AI-trained system for isolating human faces and hair from the background of an image
The headline feature in the release is the updated Select Subject command, which automatically generates masks for foreground objects in an image in order to isolate them from the background.
The algorithm has now been trained using Adobe's Sensei AI technology to optimise it for human faces, and generates more accurate cutouts, particularly on portraits with a lot of loose hair.
Whereas Select Subject previously generated masks with hard, rather blobby edges, the video above shows it isolating individual strands of hair, with graduated transparency around the edges of the strands.
The results looks as though they would need much less manual refinement than in previous releases.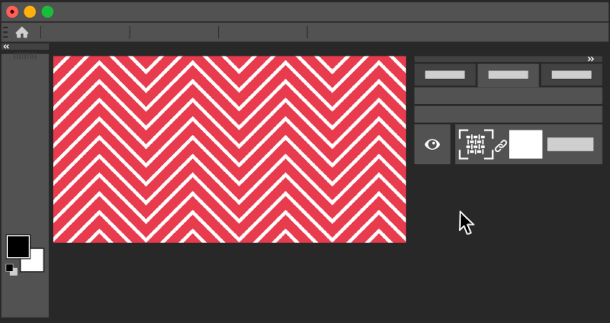 New option to rotate patterns, plus updates to font handling
Other changes include the option to rotate fill patterns when working with Pattern Overlays, Pattern Strokes and Pattern Fill layers. All edits are non-destructive, and can be altered later.
The release also updates Match Font, Photoshop's AI-trained system for identifying fonts visible in photos and matching them to those available on a user's machine, or in the Adobe Fonts library.
According to the release notes, it now supports "more fonts, vertical text and multiple-line detection".
In addition, Photoshop will now automatically activate missing fonts in documents, providing that they are available in Adobe Fonts: a feature originally added in the new iPad edition of the software.
'More Lightroom-like' workflow in the Camera Raw plugin
Outside the core application, the Camera Raw plugin has been updated to improve workflow, which is described as now being "more like Lightroom".
Changes include the option to swap the plugin's filmstrip display between horizontal and vertical layouts, and to work with multiple edit panels at the same time.
The Adjustment Brush, Graduated Filter and Radial Filter panels all get a new Hue slider, making it possible to adjust the colour of specific parts of an image in isolation.
When cropping images, there is a new 2×2 grid overlay to identify the centre of the image.
Pricing and system requirements
Photoshop 21.2 – also referred to in the online documentation as the June 2020 update – is available for Windows 7/10 and macOS 10.13+ on a rental-only basis.
Photography subscription plans, which include access to Photoshop and Lightroom, start at $119.88/year. Single-app Photoshop subscriptions cost $31.49/month.
Read a full list of new features in Photoshop 21.2 in the online documentation
Tags: Adobe, Adobe Fonts, AI-trained, Camera Raw 12.3, Camera Raw plugin, cut out hair, font activation, June 2020, Lightroom, Match Font, new features, pattern rotation, photographic cutout, Photoshop, Photoshop 21.2, price, RAW, rotate pattern, Select Subject, Sensei, system requirements