Wednesday, January 22nd, 2020

Posted by Jim Thacker
Check out the new Substance Source Signature Series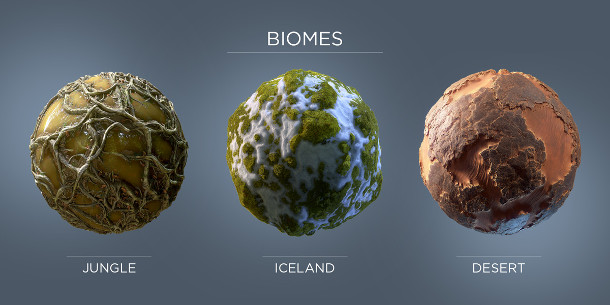 Originally posted on 24 January 2018. Scroll down for news of the latest update.
Allegorithmic has launched the Substance Source Signature Series: a tongue-twisted new program intended to make collections of assets created by individual artists available from its online material library.
The inaugural release in the series consists of 15 ground materials created by Bungie lead environment artist Daniel Thiger.
An online library of over 2,000 varied PBR materials
Since its launch in 2016, Substance Source has grown to a library of over 2,000 PBR-ready procedural materials in Allegorithmic's Substance format.
The collection, which includes fabric and organic materials as well as more conventional categories like wood, metal and stone, can be used in any application that supports the .sbsar format.
New in the Signature Series: sets of themed, artist-created materials
Although Allegorithmic has released themed collections of materials in the past, the new Signature Series is the first time that those collections have been created by individual artists.
The first set comprises 15 procedural ground materials created by Bungie's Daniel Thiger, all based on reference images, taking the collection into the same territory as scan-based resources like Megascans.
"For these materials, I wanted to challenge myself and create something that was fully procedural, but offered the same level of complexity and quality as scanned materials," commented Thiger.
The materials are divided into three self-explanatory categories – jungle, desert and Iceland.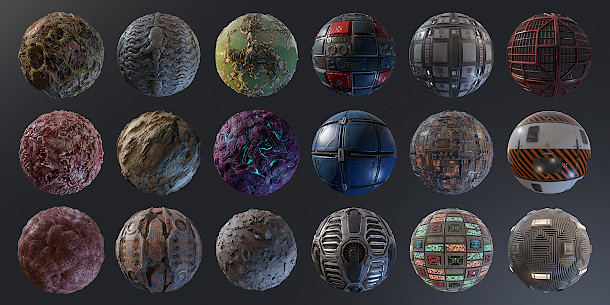 Updated 24 August 2018: Allegorithmic has released its second Signature Series, this time featuring materials created by Naughty Dog environment texture artist Chris Hodgson.
The collection features 18 sci-fi-themed materials, divided into five categories ranging from spaceship parts to the surfaces of other planets, plus some rather disturbing-looking 'alien growths'.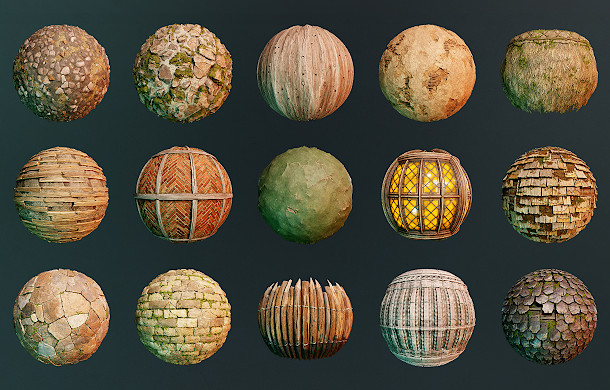 Updated 15 December 2018: Allegorithmic has released its third Signature Series, created by CD PROJEKT RED senior environment artist Mark Foreman, whose credits include The Witcher 3: Wild Hunt.
The set of 15 medieval-themed materials includes suitably period-looking wall, roof and ground coverings.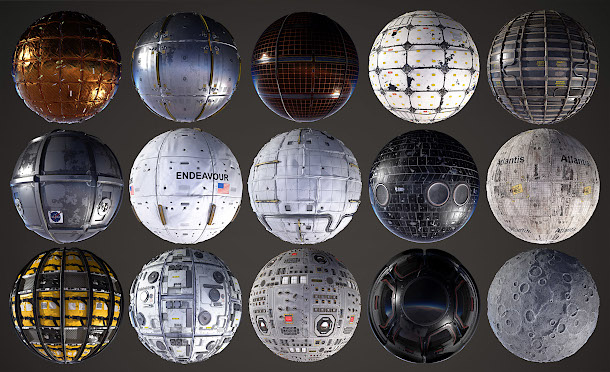 Updated 20 March 2018: Allegorithmic has released its latest Signature Series: a collection of 15 spacecraft materials created by PlayStation senior material artist Javier Perez.
The materials are based on real-world photographic reference of materials used on the International Space Station, the old Space Shuttles, and NASA living quarters.

Updated 26 May 2019: Allegorithmic – or rather Adobe, its new parent company – has released its next Signature Series, 'Beauty and Decay', a set of 15 materials created by Ben Wilson from Ubisoft Stockholm.
The 'beauty' set comprises strongly patterned man-made materials – moulded concrete, tiles, and carved card – while the 'decay' set replicates geological processes like erosion and efflorescence.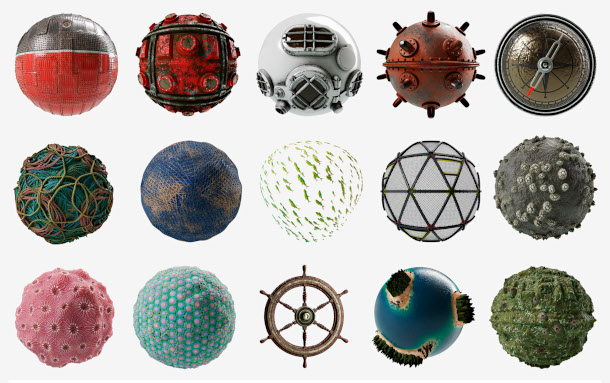 Updated 22 September 2019: Allegorithmic has released its latest Signature Series: a collection of 15 sea-themed materials created by Playground Games associate art director Don Arceta.
The set is probably the most unusual – and most diverse – yet, with materials ranging fgrom ship hulls and fishing nets to corals and even complete tropical islands.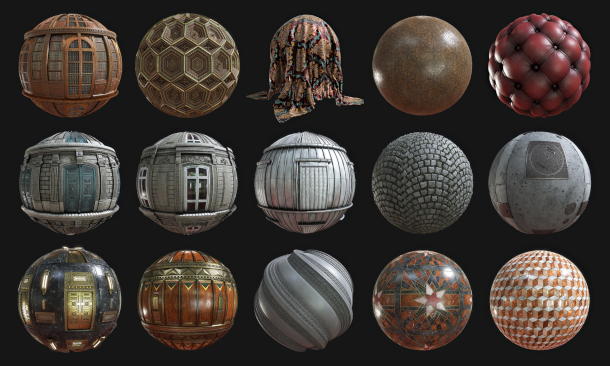 Updated 21 January 2020: Adobe has released an opulent new set of Signature Series materials, created by WB Games Montréal senior texture artist Jonathan Benainous.
The 15 architectural materials span three different period architectural styles – Victorian, Haussmannian and Art Deco – and range from exterior materials to wall and floor coverings and soft furnishings.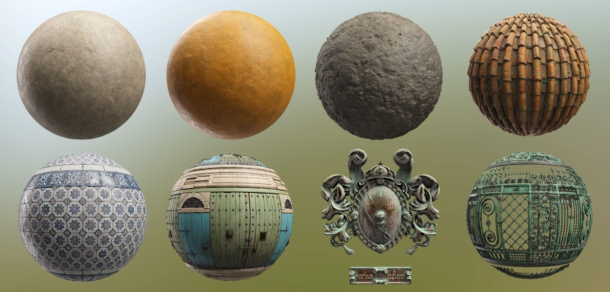 Updated 17 November 2020: The latest Substance Source Signature Series is Explore Cartagena, a kit of 15 architectural materials created by Ubisoft Québec lead material artist Vincent Dérozier.
The assets are intended to recreate the courtyard of a Spanish colonial-era house in Cartagena, Colombia.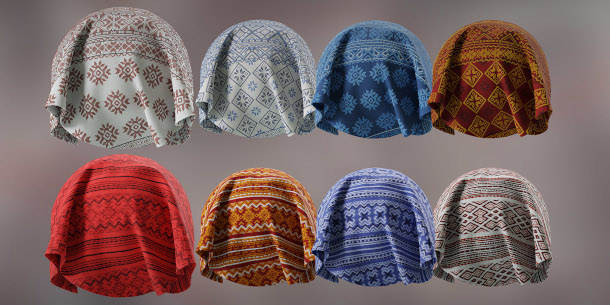 Updated 13 December 2020: Adobe has released a new Signature Series collection of 15 fabric materials created by texturing and lighting artist Pauline Boiteux.
Each of the intricate fabrics replicates traditional weave structures from around the world, from Congolese raffia fibre cloth to Cambodian beaded fabrics.
At the time of writing, two are available free: a floral lace material and a beaded Indian fabric for a lehenga.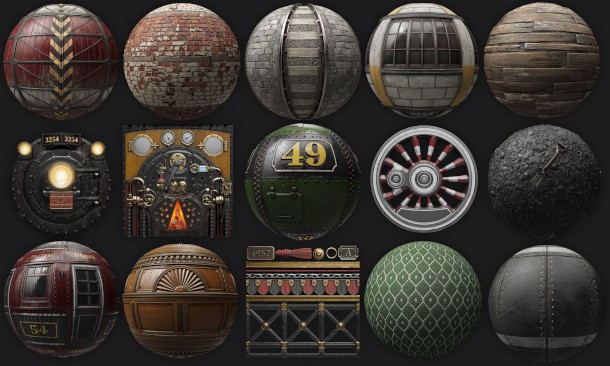 Updated 23 January 2021: Rockstar Games senior material artist Pierre Fleau has created a new Signature Series collection themed around a vintage steam train.
The Materials of the Industrial Revolution update adds 15 new materials ranging from old bricks and planks to coal and railway tracks.
At the time of writing, two are available free: decorative wood panelling and the controls for the locomoative.
Pricing and availability
Access to Substance Source is available via Allegorithmic's subscription plans, which also include rental of the firm's Substance Designer, Substance Painter and Substance Alchemist software.
Indie subscriptions – for those with revenues under $100k/year – cost $19.90/month; Pro subscriptions – for those with revenues between $100,000/year and $100 million/year – cost $99.90/month.

Read more about the Substance Source Signature Series on the Substance blog