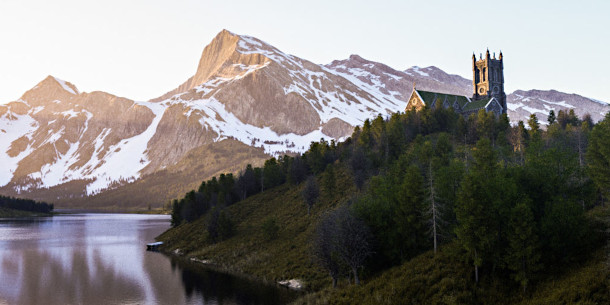 Planetside Software has released Terragen 4.4, the latest version of its landscape-generation software.
With the release, the new path tracing render mode introduced in Terragen 4.3 has been declared officially production-ready, and the interactive ray traced preview has been improved.
Path traced rendering now officially production-ready
Version 4.4 marks the official release of Terragen's new path tracing render mode, introduced in preview in Terragen 4.3 last year.
The path tracer now supports all of the same features as Terragen's standard renderer, but should result in more realistic lighting and material effects.
The latter applies particularly to water, as shown by a side-by-side comparison in Planetside's blog post.
The path tracer can now also render "approximated" caustics, which should improve the realism of rendered water and other transparent materials in suitable scenes.
In addition, the Robust Adaptive Sampler introduced in Terragen 4.3 has been optimised, which should speed up renders using the path tracer: Planetside cites a 1.32x speed boost over the legacy sampler.
Support for SSS in the Glass Shader, and improved interactive ray traced previews
Other changes in Terragen 4.4 include support for subsurface scattering in the Glass Shader – although Planetside says that the shader can also be used for other materials, like ice, ceramics and human skin.
The interactive ray traced preview introduced in Terragen 4.0 has also been updated to bring it closer to feature parity with the older 3D preview.
According to Planetside, version 4.4 adds "correct rendering of transparency, translucency, bump mapping, and smooth normals [and full support for] object manipulation functions in the RTP".
In addition, the update introduces support for new variables when generating filenames for renders, making it possible to include information like build number and render time.
Handling of materials has also been improved when importing assets in OBJ format, with Terragen now loading material nodes for any material references in OBJ files.
The software can also now read bump and displacement maps when importing OBJs with MTL files.
Pricing and availability
Terragen 4.4 is available for 64-bit Windows 7+ and Mac OS X 10.8+. The update is free to users with current maintenance contracts.
New licences of Terragen 4 Professional cost $699; Terragen 4 Creative, which has a restricted set of features and caps maximum output resolution, costs $349. See a feature comparison table here.

Read a full list of features in Terragen 4.4 in Planetside Software's online changelog
Read more about Terragen on Planetside Software's website
Tags: Glass Shader, ICE, interactive preview, landscape generation, MTL, new features, OBJ, path tracing, Planetside Software, price, Ray-Traced Preview, rendering, Robust Adaptive Sampler, sampling, skin, subsurface scattering, system requirements, Terragen, Terragen 4.0, Terragen 4.3, Terragen 4.4, terrain generation, water