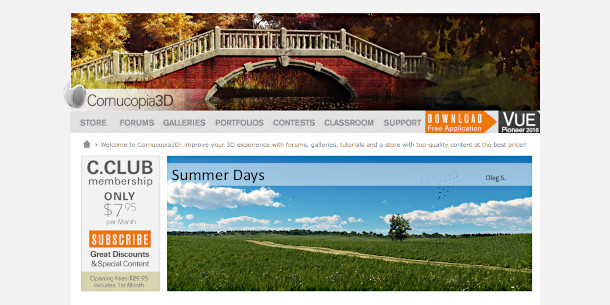 A Wayback Machine image of e-on software's old Cornucopia3D website, shortly before it was taken offline by a cyber attack in 2017. The firm has now officially announced that the asset store will not be revived.

e-on software has announced that it will not be reviving Cornucopia3D, its online content marketplace, almost two years after a cyber attack took the original site offline.
Users who previously bought assets via the store will be able to request downloadable copies for an unspecified time, but unspent credit will not be refunded.
e-on will also be making the 2,000 assets from Cornucopia3D it developed in-house available to anyone with a subscription for its digital nature applications Vue and PlantFactory.
Original site offline since a cyber attack in November 2017
Cornucopia3D has been offline for almost two years now, following a cyber attack in November 2017 that took down both it and e-on software's main product website.
Given that it took e-on a year to get its main e-commerce site back up and running – during the interim, new orders had to be handled via email – it's perhaps unsurprising that Cornucopia3D hasn't made a return, although the company hadn't definitively ruled it out when we contacted them this April.
e-on's official announcement discusses the reasoning for not bringing Cornucopia3D back, but it effectively boils down to 'too much work for the sales we'd make'.
No refunds, but you can request downloads of assets you bought previously
Users who previously bought assets through the old website can contact e-on for new downloadable archives, even for previously licence-locked content.
The company says that it will continue to provide new archives "for as long as possible".
Anyone with unspent funds on the old Cornucopia3D site can request for them to be transferred to e-on's new e-commerce site, where they can be used towards software subscriptions.
However, e-on says that it is "unable" to process any refunds due to its original terms of service agreement.
Of the 15,000-plus assets available through Cornucopia3D, the 2,000 developed by e-on software itself, as opposed to individual content creators, will be made available to the company's users.
The firm has announced that the full content archive will eventually be available to download from its new site for anyone with a new product subscription for Vue and PlantFactory, its digital nature tools.
The first batch of 350 assets was released alongside Vue R3 and PlantFactory R3 last month.
Read e-on software's announcement of its decision to discontinue Cornucopia3D
Tags: asset store, Cornucopia3D, cyber-attack, discontinued, e-on, e-on software, online marketplace, PlantFactory, refund, subscription, Vue