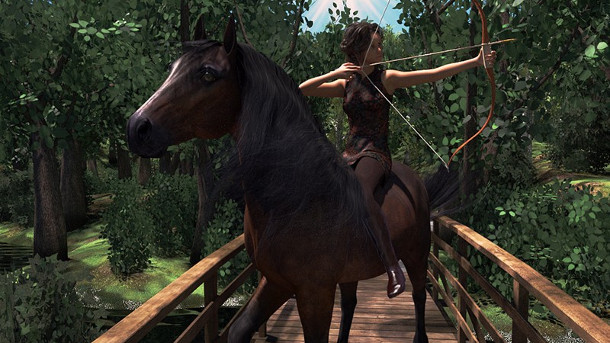 The new La Femme and horse stock figures included with Poser 11.2, Bondware's first update to the software. The release switches Poser to Bondware's licensing system, making it a critical update for existing users.

Bondware has announced Poser 11.2, the first update to the veteran figure-posing and animation software since it acquired it from previous owner Smith Micro earlier this year.
Due to ship later this week, the "bridge update" switches the software from Smith Micro's licensing system to Bondware's, meaning that existing copies of Poser may stop working correctly if users don't install it.
New licensing system, new search options, 8GB of new stock content
The parent company of online CG content marketplace Renderosity, Bondware bought Poser in June.
Poser 11.2, which is due to ship on Thursday 19 September 2019, is the first update under Bondware's management – and the first significant update to the software in almost four years.
Its main purpose is to move Poser to Bondware's online licensing system, making it an important update for anyone aiming to continue using the software.
According to Bondware, "If you do not update, [versions above] Poser 10 [may not work correctly] because the licensing system will not be able to complete the … check needed to confirm your license key."
New features include an update to Poser's asset search tool, making it possible to add content to the runtime from directly within the software; plus an option to search Renderosity's own online catalog.
The release also comes with 8GB of new stock content, including five new female human figures, a horse and a gorilla.
Bondware's blog post refers to the update simply as "Poser 11.2", so presumably it will work with both the old standard and Pro editions of the software, although only the Pro edition is currently available to buy online.
Pricing and system requirements
Poser 11.2 is due to ship on 19 September 2019. Poser Pro 11 is available for Windows 7+ or Mac OS X 10.9. It currently costs $199.
Read an overview of the changes in Poser 11.2 on the Renderosity blog
Tags: asset search, Bondware, gorilla, horse, human, licensing, new features, Poser, Poser 11.2, Poser Pro, Poser Pro 11.2, price, Renderosity, runtime, stock content, stock figure, system requirements