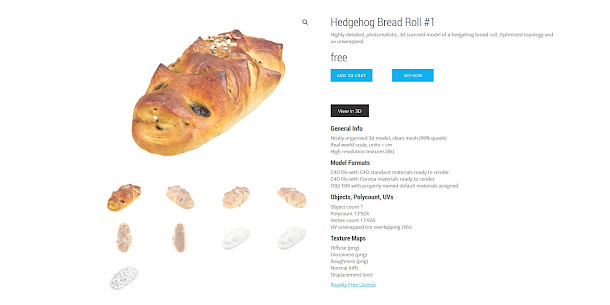 New online asset library creative crops has released three free detailed photorealistic 3D scans of food items, complete with PBR textures.
The models – a bread roll, a pear, and a very bizarre carrot – are provided in OBJ and FBX format, and as Cinema 4D scenes with Corona Renderer materials.
The original scan geometry has been optimised and UV unwrapped, and the downloads include 4K and 8K diffuse, glossiness, roughness, normal and displacement maps, plus subsurface scattering masks.
The files are licensed for commercial use.
Over 100 commercial 3D scans of food also available for download
In addition, creative crops has over 100 commercial 3D scans of food – currently mainly fruit, vegetables and bread products – available for purchase.
To access those, you will need to buy credits on the site. Individual scans cost 1-2 credits, and each purchase entitles you to download an asset five times.
Download free 3D scans of food from the creative crops website
(Requires registration on the site)
Tags: 3D model, 3D scan, 4K, 8K, bread, Cinema 4D, commercial use, Corona Renderer, Creative Crops, download, food, free, fruit, PBR, texture maps, textures, vegtable