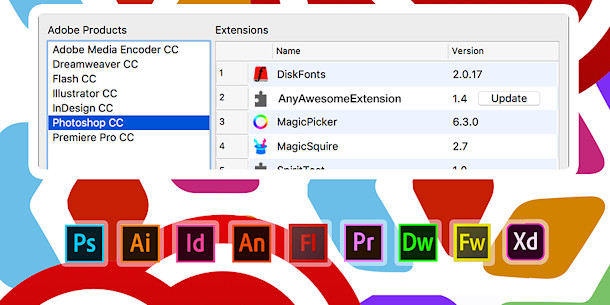 Tools developer Anastasiy Safari has released Extension Manager 3.0, the latest version of his free tool for managing add-ons for Creative Cloud applications and older Adobe software.
The tool – which is recommended by Adobe in its instructions for installing extensions – installs and uninstalls extensions in .zxp and the older .mxp format, including third-party plugins.
That covers all extensions for Photoshop, Illustrator, InDesign, Animate, Dreamweaver – and, as of the 3.0 update, XD – plus legacy software like Flash Professional and Fireworks.
Availability and system requirements
Extension Manager 3.0 is available for Windows 7+ and Mac OS X 10.8+. As of the latest update, it is compatible with Adobe's October 2018 Creative Cloud releases. It's a free download.
Download Anastasiy Safari's free Extension Manager for Adobe Creative Cloud software
Tags: add-on, Adobe, Adobe Animate, Anastasiy, Anastasiy Safari, Creative Cloud, download, Dreamweaver, Extension Manager, Extension Manager 3.0, Fireworks, Flash, free, illustrator, InDesign, MXP, Photoshop, plugin, XD, ZXP