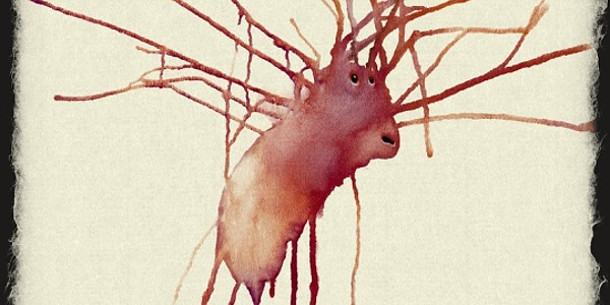 Originally posted on 16 April 2018. Scroll down for news of the commercial release.
Escape Motions has unveiled Rebelle 3, the next major version of its fluid-flow-based digital paint tool, adding new options for controlling the way paint drips and dries, and for mimicking real-world paper types.
Control liquid paint in real time
Rebelle mimics the behaviour of watercolour and acrylic paint, complete with fluid flow and blending. Users can control the flow of the paint in real time by tilting or blowing on the virtual page.
Colours blend realistically, and there are controls for smudging and blending paint, and for progressively erasing brushstrokes that have already been created.
The software can also mimic the behaviour of dry media, including pencil, pastel and marker.
New in Rebelle 3: support for real-world paper types, more realistic paint drying and dripping
New feature in Rebelle 3 include support for a range of real-world paper types, including hot pressed, cold pressed, Japanese and canvas paper, with both cut and deckled edges.
The software's watercolour simulation code has been rewritten to recreate the way that paint interacts with the paper surface, including new controls for absorbency and edge darkening.
There is also a new simulation engine dedicated to recreating the behaviour of paint drips, with drips now responding believably to paper structure, water, stencils and selections.
It's even possible to recreate the effect of blowing drips in different directions using a drinking straw, as shown in the image at the top of the story.

Updated 23 April 2018: Escape Motions has unveiled a new set of features due in Rebelle 3, and announced that the update will be released next Monday, 30 April 2018.
New features announced this time round include the option to create a 'masking fluid layer'.
This converts all of the non-zero pixels in the layer selected into a stencil that prevents liquid paint from spreading, making it possible to import a drawing and colour between the lines, as shown in this video.
There are also a new set of ruler tools, which generate straight(ish) lines with an attractively hand-drawn quality, and even a complete one, two or three-point perspective system.
Other changes include new floating panels to display reference images and a zoomed out view of a painting, plus a new tool for cropping and resizing the canvas, including the option to change the DPI of the image.

Updated 1 May 2018: Rebelle 3 is now shipping.
As well as the functionality listed above, the update adds the option to control how brush orientation responds when painting, with support for pen tilt and pen rotation on styluses that support this.
It also adds a number of features standard in more conventional image-editing packages, like a Magic Wand tool and adjustment filters, including Brightness/Contrast, Hue/Saturation/Lightness and Color Balance.

Pricing and availability
Rebelle is available for Windows and Mac OS X. A new licence costs $89.99.
Read more about the new features in Rebelle 3 on Escape Motions' blog
Tags: absorbency, acrylic, blow tool, digital painting, drip, edge darkening, Escape Motions, fluid simulation, masking fluid layer, new features, paper type, perspective, price, Rebelle, Rebelle 3, release date, Ruler, three-point perspective, watercolor, watercolor paper