Sunday, May 13th, 2018

Posted by Jim Thacker
Download Andreas Moritz's neat free seashell generator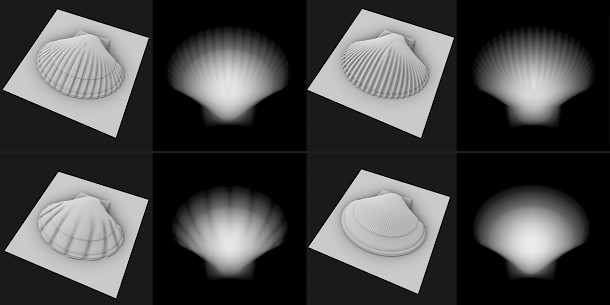 Blue Byte environment artist Andreas Moritz has released a neat free seashell generator for Substance Designer. The tool generates height maps for shells that can then be used in other software.
Create customisably convoluted cockles
The base shape generated by the Substance graph is fixed, so it only creates flat, rounded shells like scallops or cockles – it doesn't do asymmetric shells like mussels, or coiled shells like whelks and winkles.
However, within those limits, you can vary the pattern of ridges and flutings across the shell, and the size of the fins at the base, leading to a wide variety of possible forms.
System requirements and availability
The seashell generator is provided as an .sbs file for Substance Designer 2018.1.1 and above. It's free, and the output can be used in commercial projects.
Download the free Substance Designer seashell generator from Andreas Moritz's Gumroad store
(Enter $0 at the checkout to get it free, or make a voluntary donation)