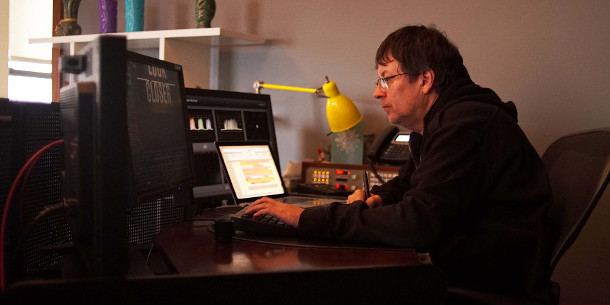 In this sponsored article, Nice Shoes CTO Robert Keske reveals the factors that govern the award-winning creative studio's choice of new technology – and why it chooses Lenovo ThinkStation P Series workstations.

With a portfolio that ranges from Cannes Grand Prix-winning ads to music promos for Pink, Nice Shoes is one of North America's most respected creative studios. Yet with fewer than 30 artists in in its New York headquarters, it is also one of the most agile. The company has remained determinedly independent, and rather than simply expand, it chose to co-operate, parlaying its clients into a network of partner offices that now covers half of the United States. On top of its visual effects work, the firm maintains a successful color and finishing business, and recently expanded into virtual and augmented reality.

The man responsible for supplying the infrastructure to support these creative changes is CTO Robert Keske: an industry veteran with a résumé that also includes seven years at Autodesk. Below, Robert discusses what a smart studio should consider before investing in CG hardware, including the need to balance innovation with an evidence-driven approach to technology, the key trends currently affecting the market, from GPU compute to machine learning – and why Nice Shoes has recently switched to Lenovo's ThinkStation P Series artists' workstations to help it stay ahead of the curve.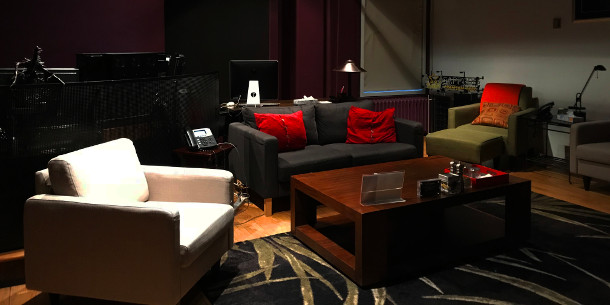 Part of Nice Shoes' New York studio. Rather than simply expanding its Manhattan headquarters, the company has chosen to grow by building a partner network of clients that now covers half of the United States.

From the Big Apple to the wider world
Founded in 1996, Nice Shoes quickly became one of New York's best-known post-production facilities, with a client list that now ranges from international brands like Gillette, McDonald's and Mercedes to international superstars like Beyoncé, Kanye West, Lady Gaga and Drake.
But by the turn of the decade, the studio had become a big fish in an increasingly crowded pond. "When we started Nice Shoes, we had a total of eight or nine competitors in New York," says Keske. "Now we have 450, minimum. Our world is shrinking. Our business is global now. It's no longer solely Manhattan-based."
Rather than follow the conventional route of launching new offices in other global hubs, Nice Shoes chose to think strategically, teaming up with its clients to create a network of remote partners in regional marketplaces and then, based on the success of those endeavours, began to launch satellite locations. Today, its extended network comprises 10 offices, stretching down from the Canadian border to Miami and Austin, Texas.
"We've taken good care of our clients over the years, establishing ourselves as trusted partners, and a lot of the locations we're in are because of the strength of our relationships with those customers," says Keske.
Designing a studio network
Clients visiting one of the remote partners are connected to a Nice Shoes artist via a secure real-time video feed, viewing the session on a display calibrated to match those at Nice Shoes' New York studio.
For its network infrastructure, Nice Shoes takes what Keske describes as a "corporate IT approach", using a range of off-the-shelf technologies for managing an IPsec VPN service, adapted to support the bandwidth required by a business working in the entertainment industry.
"As our industry continues its transformation, the adoption of Fortune 500 IT practices, at least in main infrastructure projects, allows our efforts to focus on providing creative solutions for our artists," says Keske.
"The underlying technology needs to be rock-solid, mature and expandable [with] a 60-to-72-month lifespan, minimum. If you make the right choices, it can last even longer. We originally put in our latest Fibre Channel infrastructure in 2006, and it's been there ever since."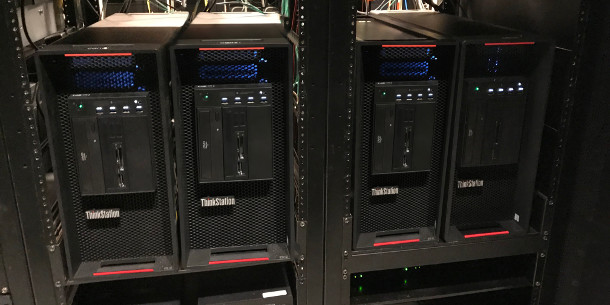 Lenovo's ThinkStation P Series workstations in use at Lenovo. The firm has almost completed the process of switching all of its artists' machines to Lenovo, and plans to do the same for its Flame systems.
Building bleeding-edge artists' workstations
Nice Shoes carefully specifies its artists' hardware: not just the 25 workstations in its New York studio but also those in its partner offices, to ensure a consistent client experience. The company is just completing the process of migrating from its old Mac tower workstations to new Windows 10 machines supplied by Lenovo.
Each of the new creative desktop systems is a ThinkStation P Series workstation, with dual Intel Xeon processors totalling between 8 and 12 CPU cores, and at least 128GB of DDR4 memory. The studio uses NVIDIA graphics cards: always two or three per workstation.
"We put in as many as we can fit in the box," says Keske. "All of the software we use these days has [at least partial GPU compute capabilities], or is moving that way."
That software includes tools from Adobe Creative Cloud and Autodesk's Media & Entertainment Collection – primarily Maya, 3ds Max and Arnold – plus Avid Media Composer and Nuke. Finishing is usually done on grading or Flame systems, which Keske says will be next to move over to Lenovo.
Staying agile in a changing marketplace
Compared to core infrastructure, Nice Shoes' creative systems turn over far more quickly, with workstations replaced on a rolling 36-month schedule. "Our industry is in such a state of flux, you have to be nimble," says Keske. "You have to approach each project on a case-by-case basis, and build the right tools for it."
One example is Nice Shoes' choice of graphics cards. While Keske usually opts for the maximum-spec card currently available, the studio mixes and matches GPUs from NVIDIA's professional and consumer ranges.
"Editing applications, especially Avid and Premiere Pro, perform better with Quadro cards. We've seen a 2x improvement in compute times," says Keske. "But with applications that do photorealistic and CGI work, you get better [performance] with GeForce cards."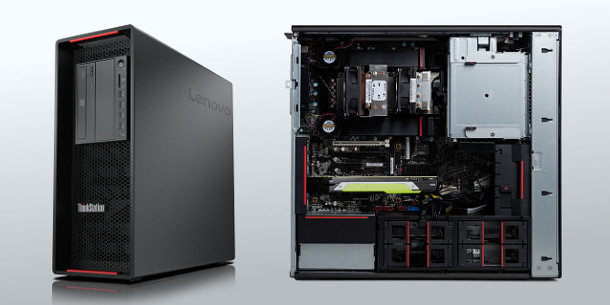 Side and interior views of Lenovo's ThinkStation P720 tower workstation. Nice Shoes CTO Robert Keske praises the power, expansibility and "whisper-quiet" fan design of the P Series machines.

Designing fast, flexible creative systems
On starting the process of replacing Nice Shoes' Mac workstations two years ago, Keske tested systems from all of the major vendors, secondary white box manufacturers, and self-build machines, eventually settling on Lenovo's ThinkStation P Series for its combination of performance and configurability.
"Lenovo has taken the position that it wants to be the market leader in the Media & Entertainment industry, and the technologies [that it chooses] and the options that it gives you allow people like me to get every ounce of power out of its machines," he says. "It really is the best of breed in the market right now."
In particular, Keske praises the chassis design in the ThinkStation P700 and P900 Series machines. "The way the [expansion] slots are laid out means that I can put in a lot of double-width graphics cards," he says. "I don't need to do it in every case, but if I need to build a beast of a machine, I can, and I don't need an external chassis."
Fan design is another factor. "Extremely high-end workstations are quite loud, and you don't want fan noise in an editing suite," points out Keske. "Especially on the ThinkStation P700 Series, the fans are whisper-quiet. I can put them with an editor, and they don't know they're there. That makes my life a lot simpler."
Balancing present and future hardware needs
When adopting new technology, Keske says that he looks for a combination of maturity, flexibility – both in terms of the operating systems supported and of data redundancy – and price, describing the process as striking a "delicate balance" between the current needs of the studio, and its likely needs in future.
"It's a question both of what we need to do today and of where [the industry] is going tomorrow," he says. "You want to be a market leader, and that means thinking ahead, but you have to decide whether you want to spend the time and effort in trying to improve [a technology] to make it work for you."
At the minute, Keske says that a key challenge in the industry is deciding how to handle GPU computing. While Nice Shoes is investing heavily in the GPU compute capabilities of its local workstations, Keske feels that GPU virtualisation is more problematic.
"If you're working a creative application, the latency between the keyboard and the screen needs to be below 10ms," he points out. "Having remote workstations [is not feasible] right now because of that: they lose the creative juices. We're working with manufacturers to make sure they understand those needs."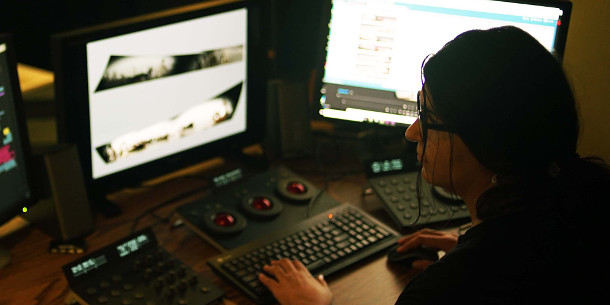 A grading session in progress at Nice Shoes. According to CTO Robert Keske, the increasing resolution at which images are captured for projects like this is one of the current key trends in the CG industry.

Key hardware trends in the entertainment industry
For Keske, other key current trends include the rise of object-based storage and virtual tape processing, and the ever-increasing resolution at which images are captured – Nice Shoes is already working on projects that involve media recorded at resolutions of up to 24K.
Keske sees the problem primarily as one of processing time rather than file size. "Because of advances in camera technology, the source files have actually gotten smaller," he says. "The biggest issue is the display and compute times of those larger formats. And that's where GPU rendering will come in. On some of NVIDIA's latest cards, they're actually dropping the number of CUDA cores but increasing the memory bandwidth, because everyone has the same problem."
Future opportunities include virtual and augmented reality – something that Keske feels is "not that big a step from an infrastructure perspective" for post facilities – and AI, particularly the machine-learning-based systems currently being introduced by NVIDIA and Amazon.
"At this point, we're trying to get our heads around the technology to find an easy way to bring it to our clients," he says. "It will clearly affect both commercials and episodic [broadcast work] in future."
In particular, Keske hopes that AI can help with routine tasks like versioning. "We have a lot of commercials that have 30 or 40 different versions. The more we can do that with machine learning, the better," he says.
Technology to tackle the future
This evidence-driven approach to new technology helps Nice Shoes stay in the vanguard of the industry without breaking its budget, while Lenovo's ThinkStation P Series workstations give Keske the certainty that its artists have the computing power to tackle even the most demanding of creative jobs.
"It's not day-to-day production that keeps us awake at night," he reveals. "It's always the next project. By adopting core technologies, and mature technologies, we really don't have to worry too much about normal things like rendering. The real challenge is solving the problems of the future."
Find out more about Lenovo's ThinkStation P Series workstations
Tags: Advertorial, AI, Amazon, artificial intelligence, CG hardware, choosing CG hardware, choosing graphics workstions, GPU, GPU computing, GPU virtualization, graphics card, industry trends, Lenovo, machine learning, motion graphics, Nice Shoes, NVIDIA, object-based storage, P Series, post-production, Robert Keske, tapeless workflows, ThinkStation, vfx, visual effects, what to consider when buying CG hardware, what to look for when buying graphics hardware, workstation