Wednesday, April 18th, 2018

Posted by Jim Thacker
See Hero, a steampunk 2D short made entirely in Blender

Blender Institute has released Hero, a steampunk-ish 2D animated short created entirely in Blender, using the new Grease Pencil toolset due in the upcoming Blender 2.8.
The first animated short to be created in Blender 2.8
Directed by Daniel Martinez Lara and a small team of colleagues and former students from Spanish animation school Pepe-School-Land, showcases the potential of the Grease Pencil tools.
It's a steampunk-ish, action-packed tale with a twist ending, with two rival 'heroes' fighting for control of a mysterious glowing artefact that provides power and life to their respective homelands.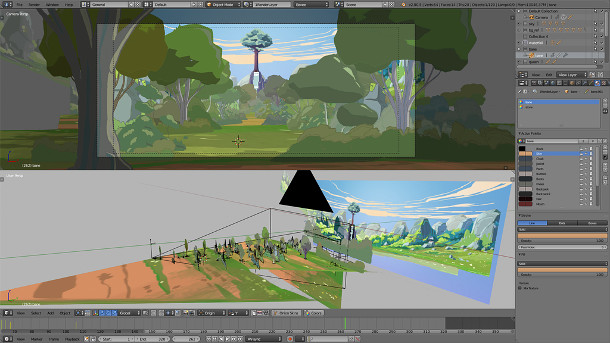 Created using new animation workflows made possible by Blender 2.8's Grease Pencil tools
But Hero is arguably more noteworthy for its credit sequence, which shows how shots from the short were created, using an interesting mixture of 2D and 3D techniques.
As well as animating the characters using a traditional stroke-based workflow, the team were able to project backgrounds onto a spherical environment and to arrange foreground elements on layers in 3D space, as shown in the image above – a workflow midway between conventional 2D animation and 3D compositing.
Download assets from the film and the tools used to create it
As the latest 'open movie' to be made through the Blender Cloud crowdfunding platform, assets from the film will be made available to Blender Cloud subscribers.
If you want to try to emulate Hero for yourself, preview builds of Blender 2.8 are available for download, with a stable production release due later this year.