Tuesday, March 27th, 2018

Posted by Jim Thacker
Anastasiy ships MagicPicker 6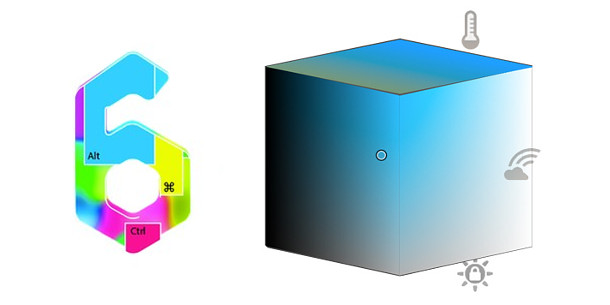 Developer Anastasiy Safari has released MagicPicker 6: an update to his colour wheel and colour-picker add-on for Photoshop and Illustrator, adding an interesting new picker cube.
The updates – version 6.0 came out earlier this month, then 6.1 followed today – also add support for Pantone and LCh colour spaces to the conventional colour wheel, and a decluttered new Pro mode.
MagicPicker: a primer
The plugin, used by artists at studios including Disney, Marvel and Epic Games, adds a resizable colour wheel to its host application's interface, with a range of preset colour schemes.
It has a range of neat features, including the option to lock the gamma of your colour palette – meaning new colours automatically match the background of an image – or to lock the black level of CMYK colours.
Particularly in Photoshop, it helps turn the host software from a general-purpose image-editing tool to something more specifically tailored to digital painting and concept work.
New in MagicPicker 6: new cube picker and colour spaces
New features in MagicPicker 6 include an interesting new cube colour picker designed to enable users to pick colours in a more intutive way.
Moving horizontally adjusts the brightness of the colour selected; moving vertically changes saturation while preserving brightness. The top side of the cube adjusts the colour's temperature.
The conventional colour wheel gets support for new colour spaces: Pantone's Solid and P Solid, in both coated and uncoated versions, for solid colour printing; and the Lch cylindrical representation of Lab colour.
UI changes and keyboard shortcuts
Workflow changes include a new Pro mode, which hides buttons and UI elements to reduce visual clutter – or, if you want to go the other way, toggleable tooltips for UI elements.
There are also now keyboard shortcuts for common operations like changing hue, brightness or colour temperature; toggling a display mode; or copying a hex value to the clipboard.
Users can customise the keyboard mapping and the increments in which parameters are increased or decreased. The system supports extended keyboards and devices that emulate key presses, like 3D mice.
Pricing and availability
MagicPicker 6.1 is available now for Photoshop and Illustrator CS3 and above on Windows and Mac OS X. Since version 5.0, the price has risen from $19 to $29.
Read a full list of new features in MagicPicker 6.0 and 6.1 on Anastasiy's blog