Friday, December 29th, 2017

Posted by Jim Thacker
Get three free scanned 3D characters from Human Alloy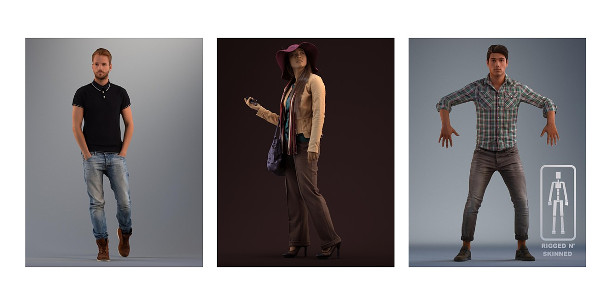 New online resource site Human Alloy has made three of its 3D characters based on scans of real people available to download for free.
The files are provided in FBX format and as 3ds Max 2014 scene files with V-Ray materials at a range of resolutions. One of the male figures is rigged for animation, with a choice of 3ds Max CAT and Biped rigs.
Available in a range of resolutions and file formats
The three figures – two male, one female – illustrate Human Alloy's three model types.
The Basic model is intended for background work, and comes in at 40,000 polygons with 2K texture maps. It is provided in OBJ and FBX formats and as SketchUp and 3ds Max scene files.
The Premium model is provided at six different levels of detail, from 40,000 to 20 million polygons, with 8K textures. It comes with low- and high-resolution 3D hair.
Again, the file is provided in OBJ and FBX formats, and as a 3ds Max scene file with V-Ray shaders.
The rigged and skinned model comes at 40K and 70K resolutions, with 8K textures and low- or high-resolution 3D hair. It comes as in FBX format or as 3ds Max/V-Ray scene file, with either a CAT or Biped rig.
All of the files are licensed for use in commercial work, although Human Alloy's licence doesn't cover the redistribution of the 3D models themselves as part of real-time applications.
Over 100 other commercial figures available to buy
Human Alloy also has over 100 commercial figures available, spanning a range of ages, ethnic origins and clothing styles.
Basic characters cost $58 for five, Premium characters cost $58 each, and rigged characters cost $116, with progressive discounts for buying in bulk.
Download the three free scanned 3D characters from Human Alloy's website