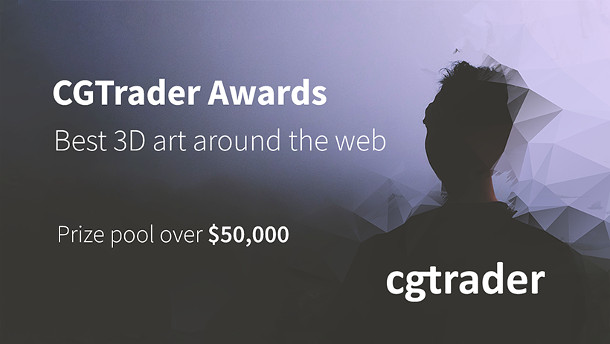 Online marketplace CGTrader has just launched the CGTrader Awards: a new worldwide art contest with prizes totalling over $50,000 in value.
Enter existing rendered 3D images in one of six different categories
Users can submit up to five different rendered 3D images in each of six categories, Character, Cartoon, Environment/Scene, Sci-fi, Fantasy and Photorealism – although you can only submit each image once.
As well as the six main judged awards, there is a separate Public Award, based on the number of impressions and saves each entry gets on CGTrader's Pinterest board.
There are a good range of prizes, including licences of Cinema 4D, Modo, 3D-Coat and KeyShot, plugins and other tools, online rendering credits, and even a 3D printing pen.
The Character category has the biggest prizes on offer – at least in terms of monetary value – with a first prize worth over $10,000, but every category clocks in well over $4,000.
You can find full lists of prizes for the six judged categories on CGTrader's site, and more information about the Public Award below.
The obvious restrictions apply – you can't submit anything for which you don't own all of the IP, or anything containing nudity or violence – but otherwise, there are no restrictions on subject matter.
Entry requirements and closing dates
Entries to this year's CGTrader Awards close on 1 December 2017. To submit an entry, you need to add a badge next to the image on your portfolio website, then fill in the online application form.
Read more about the CGTrader Awards on CGTrader's website
(Includes a list of prizes available, and full instructions on how to enter)
More information about the Public Award
The Public Award will be based on the engagement – the number of impressions and saves – each artwork gets on Pinterest. Two artworks generating the most engagement will each win Public Award prizes.
The prize includes a Professional licence of 3D-Coat, a SiNi Software All Access subscription, licences of Silo, PixPlant and Brighter3D, and 300 CGTrader shopping credits, normally sold for over $900 in total.

Full disclosure: CG Channel is one of the media partners for this year's CGTrader Awards.
Tags: 3D art contest, CG art contest, CGTrader. CGTrader Awards, closing date, digital art contest, entry requirements, how to enter, prizes