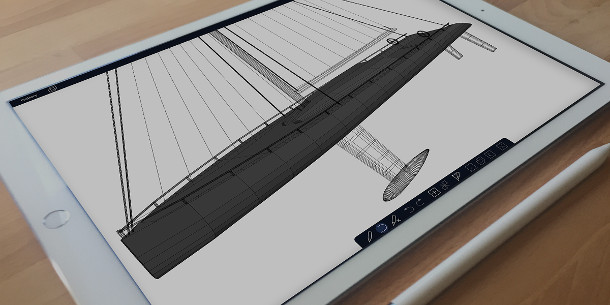 Startup Blackstar Software has released Model3D, a new professional modelling app for iPad users.
According to Blackstar, the app, which is targeted at creating models for both real-time and offine work, is intended to "appeal to experienced users while also being easy enough [for beginners] to learn".
A streamlined, intuitive modelling app designed for tablet users
Model3D's toolset is focused around "simple low-level functions" like extrusion, subdivision and direct manipulation of faces and vertices, implemented in a way that is easy to control on a tablet.
According to the product website, "camera areas near the edges of the screen make moving around intuitive [and] 'ghost' controls and camera focus allows you to concentrate on a single element in a complex scene".
Models can be exported in OBJ format, and the workspace exported as a PNG or JPEG image.
At the minute, there is only support for "basic colour materials", but Blackstar says that it also plans to implement 3D painting tools and PBR rendering in the app in the "near future".
Pricing and availability
Model3D is available for iOS 10.0 and above. It costs $14.99, although you can download a save-disabled evaluation version for free. You'll need a Dropbox account or iCloud Drive to export files.
The app is designed specifically for the iPad Pro and its Apple Pencil stylus, but it will work on any iPad that supports Apple's Metal graphics API, including iPad minis and iPad Airs, and with any third-party stylus.

Read more about Model3D on Blackstar Software's website
Tags: 3D modelling, 3D painting, app, Apple Pencil, Blackstar Software, extrustion, games, iOS, iPad, iPad Pro, Model3D, OBJ, PBR, polygonal modeling, price, professional, real time, rendering, subdivision, system requirements, texturing