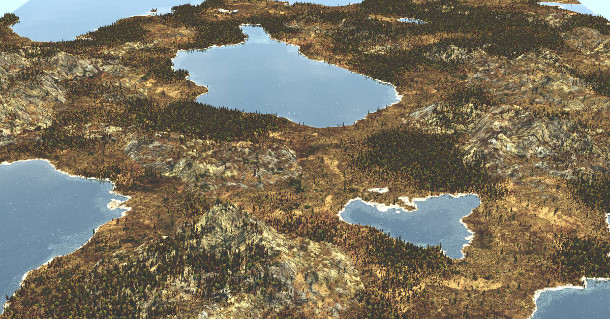 Tools developer Arnaud Couturier has released SceneTerrain 1.0, the first stable release of his terrain-generation toolset for Blender.
Previously available in beta, the software enables users to create textured digital terrains with water and instanced vegetation, for use in offline scenes or for export to game engines like Unity and UE4.
Generate automatically textured digital terrains with instanced vegetation
SceneTerrain enables Blender users to generate terrains using imported heightmaps, or via the software's eroded mountains and mountain chains presets.
Materials are generated automatically, along with mask textures defining topographical features like areas of water, beaches, slopes or land above a certain altitude.
The software comes with 25 readymade 6,000 x 6,000px ground textures, or users can import their own.
Generated terrains can then be dressed with instanced rocks or vegetation – SceneTerrain ships with a library of seven tree species, with three age variants for each – arranged on population layers.
Distribution patterns can be generated parametrically, or painted in manually, and there is support for automatic variation of leaf colour.
The software is also compatible with SceneCity, Couturier's procedural city-generation tool, and exterior lighting tool SceneSkies, with which it is bundled.
Pricing and availability
SceneTerrain, SceneCity and SceneSkies are available as a bundle for Blender 2.78 on Windows, Linux and Mac OS X. The MSRP is $79.95, but the bundle is available at a $20 launch discount until 23 April 2017.
Read more about SceneTerrain on Arnaud Couturier's website
Tags: add-on, Arnaud Couturier, Blender, digital nature, Featured Articles, ground texture, heightmap, instanced vegetation, landscape generation, mask texture, material, plant, plugin, population layer, price, procedural, Python, rock, SceneCity, SceneSkies, SceneTerrain, SceneTerrain 1.0, terrain generation, tree