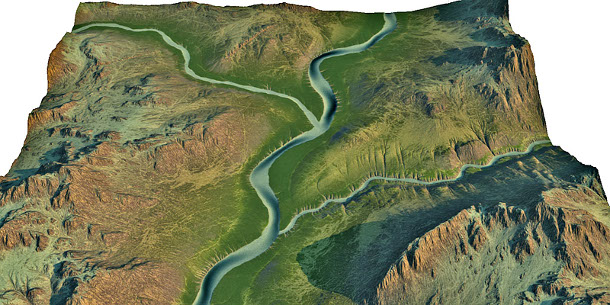 World Machine has received its first development update in over a year.
Dev build 3014 of the terrain-generation tool reworks the software's River device to support multiple rivers and hierarchical river systems, and adds a new 'before and after' option to the 3D view.
But equally importantly, it signals to users that World Machine is not actually dead, as its developer has admitted in a fascinating blog post about the difficulties of one-person software development.
World Machine: a brief summary
First released in 2005, World Machine is a powerful, versatile terrain-generation system.
The software has always had a steady cult following, but in recent years, has attracted real support among professional artists, particularly those working in games.
Users were drawn in by its nonlinear node-based workflow, procedural erosion system, and ability to handle very large terrains – and recently, third-party add-ons like Dax Pandhi's GeoGlyph.
But then, in 2016, silence. Over the course of the year, no new dev builds appeared, and no new posts appeared on developer Stephen Schmitt's blog. Forum users began to ask if the software was dead.
Not dead, just doing R&D
And then, earlier this month, Schmitt released a new build of World Machine, revamping the river-generation system, and adding a new 'before and after' comparison to the 3D view to preview changes.
Along with it, he put up a lengthy blog post: one that provides a fascinating insight into the world of the one-person software developer.
According to Schmitt, "2016 was a year with substantial time poured into speculative R&D projects, trying to do things that haven't been done before.
"Some of that effort has yielded extremely promising early results; however, other efforts consumed month after month of work, ultimately never producing a viable product."
More frequent updates in future
The experience – which Schmitt describes as pursuing "what sometimes [seemed] like rabbit hole after rabbit hole, only to find zero rabbits" – has led him to review his development strategy.
More speculative R&D will now be confined to separate branches of the code so as not to hold up other releases; while anyone who bought a licence after December 2015 will get all of 2017's updates for free.
Schmitt is also recuiting a community manager to help communicate what is going on behind the scenes.
And not all of last year's R&D work was in vain, apparently: Schmitt says that he has "developed some incredibly promising new functionality" and hints at further software updates in 2017.
Pricing and availability
World Machine is available for Windows XP and above. A Standard licence costs $99; a Pro licence – which adds multithreading, tiled terrains and scripting support – costs $249.
Both prices include one year of maintenance and upgrades, including the current 3014 build.
Schmitt also says that if he doesn't release an update inside a year in future, the next release will automatically be free to anyone with a valid maintenance agreement.

Read Stephen Schmitt's blog post about World Machine dev build 3014
Visit the World Machine website
Tags: Dax Pandhi, dev build 3014, erosion, Featured Articles, GeoGlyph, landscape generation, node-based, price, procedural erosion, QuadSpinner, R&D, river generation, Stephen Schmitt, terrain generation, tiling terrain, World Machine, World Machine 3, World Machine 3014