Wednesday, September 12th, 2018

Posted by Jim Thacker
World Machine 3022 'Mt. Daniel' ships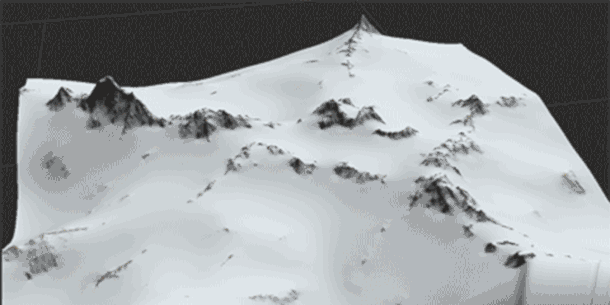 World Machine Software – aka developer Stephen Schmitt – has released World Machine 3022 'Mt. Daniel', the latest version of the popular terrain-generation tool.
Originally announced in July, but only just available for purchase, the release adds a new Snow device, and improves workflow when building terrains, particularly at very high resolutions.
New Snow device simulates snow accumulation and melt separately
The main new feature in World Machine 3022 is the new Snow device. Like its predecessor, it simulates the accumulation of snow on terrain, but does so at the expense of less calculation time.
Schmitt says that the new device is consistently quicker on small terrains, and "hundreds to thousands" times faster on large ones.
The new device also splits the process of snow melt from that of accumulation, providing another way to control snow distribution without having to re-run an accumulation simulation.
Better progress and error reporting when building terrains
Under the hood, the process of building terrain has been updated, with more accurate progress reporting in the build status dialog, and a log of messages generated to help troubleshoot problem scenes.
In particular, running out of memory when building large terrains is now reported correctly. The build process can also now be cancelled without locking up the UI or having to wait for devices to finish calculating.
Pricing and availability
World Machine 3022 is available for Windows 7+. An Indie licence, which enables you to build terrains on two CPU cores, costs $119..
A Professional licence – which raises the limit to 256 CPU cores, and adds tiled terrains and scripting support – costs $299, while a Studio Site Licence costs $1,999.
The free Basic edition has all of the features from the Indie edition, but is only licensed for non-commercial use and makes it impossible to build or output a terrain larger than 513 x 513px.
Read more about the new features in World Machine 3022 on the software's dev blog