Thursday, May 3rd, 2018

Posted by Jim Thacker
World Machine 3021 ships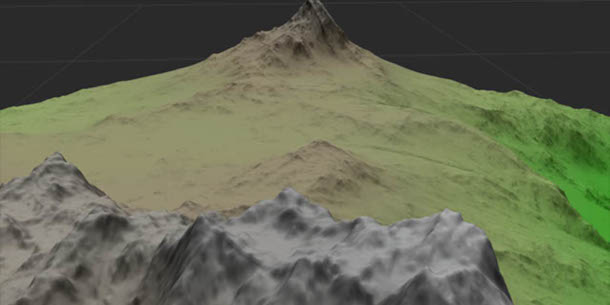 World Machine Software – aka developer Stephen Schmitt – has released World Machine 3021, the latest version of the popular terrain-generation tool.
The update adds support for the JPEG and HDR file formats, updates the Output Manager, and addresses a number of longstanding workflow issues, including standardising viewport navigation.
Support for the JPEG and EXR formats and improved file output
The changes are part of a continuing program of modernisation in the way that World Machine is presented to the public, following a year-long hiatus in 2016 that led Schmitt to review his development strategy.
New features this time round include support for JPEG and EXR as formats for input and output.
EXR support is described as "long overdue", if limited: World Machine does not currently make use of the format's ability to pack multiple channels into a single file, or store HDR data.
However, Schmitt says that he plans to support PBR workflows and HDR colour values in a future release.
As well as supporting the new formats, the software's Output Manager has been updated, adding support for macros and template substitutions, generating any non-existent part of a template path automatically.
Standardised navigation and usability improvements
There are also a number of workflow improvements, notably more consistent, "basically Maya-style" navigation across the software's 3D View, Layout View and Device Workview.
As well as making the role of the left, middle and right mouse buttons more consistent between viewports, the [Ctrl] and [Shift] keys can now be used to speed up or slow down a navigation action.
Other changes include the option to copy and paste settings from one World Machine device to another, and a reworking of the Slope Selector to use degrees rather than abstract units for slope angle.
Pricing and availability
World Machine 3021 is available for Windows 7+. Since we last wrote about it, the old $99 Standard licence has been replaced by a new $119 Indie licence, which enables you to build terrains on two CPU cores.
A Professional licence – which raises the limit to 256 CPU cores, and adds tiled terrains and scripting support – costs $299, while a Studio Site Licence costs $1,999.
The free Basic edition has all of the features from the Indie edition, but is only licensed for non-commercial use and makes it impossible to build or output a terrain larger than 513 x 513px.
Read more about the new features in World Machine 3021 on the software's dev blog