Friday, February 10th, 2017

Posted by Jim Thacker
Foundry previews 'Project Mayhem' VR toolset for Modo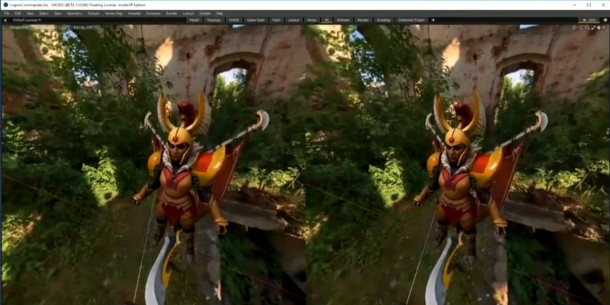 Legion Commander from Dota 2, viewed in virtual reality inside the Modo viewport as part of Foundry's new 'Project Mayhem' in-house tech preview, shown publicly at its Modo Live user event.

Foundry – as we will now have to learn to call it, following the firm's change of branding from 'The Foundry' – has previewed a new set of virtual reality tools for Modo.
The technology – an in-house technology preview codenamed 'Project Mayhem' – was shown off during last night's Modo Live user event, held at Gnomon – School of Visual Effects, Games and Animation in LA.
Navigate virtual reality scenes directly inside Modo
A big part of the demo was simply showing scenes displaying in a VR-viewable format within the Modo viewport, complete with an on-screen representation of the HTC Vive controllers.
As well being able to manipulate foreground objects using the controllers, the system provides the ability to navigate a scene by 'teleporting' from point to point in a way that will be familiar to players of VR games – a form of navigation jokingly described as "Nightcrawler mode".
Users can also view objects' wireframes inside VR, or illuminate them with a virtual flashlight.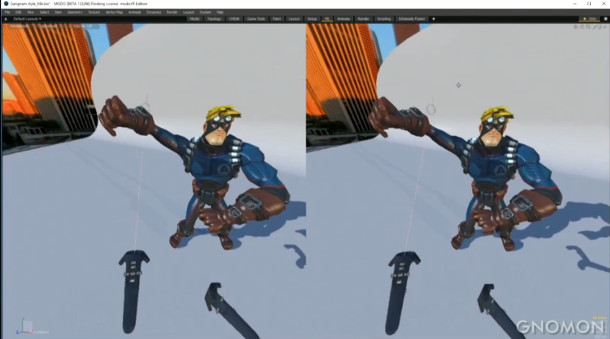 Practical benefits for designers as well as VR artists
Foundry creative specialist Greg Brown pitched the new toolset as being geared towards the product design and visualisation end of Modo's user base, as well as those actually creating VR content.
"[Working with the technology] has changed my perspective on how content should be created. In my opinion, virtual reality is an essential part of content creation at this point," he said.
In particular, Brown cited asset review as a process in which VR could play a practical role: "When you're inside this environment, every flaw, every error [in an asset] becomes apparent."
Brown also discussed the benefit of moving around a character to carry out animation reviews: the tech also includes the option to step forward or backward through an animation via the on-screen controls.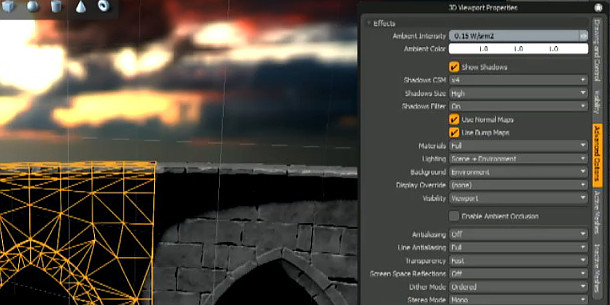 Expected to lead to improvements in general viewport performance
The work is also expected to lead to improvements in Modo's core engine, with Brown demonstrating features developed for use in VR implemented within a modified version of Modo 10.2.
The new features, which you can see in the screenshot above – it was grabbed live during the broadcast, so the quality isn't great – include cascading shadow maps and line antialiasing.
According to Brown, despite the "dramatic" increase in display quality, the work done on optimising viewport rendering for VR also results in a "20-30% performance improvement".
"Despite all of these additional features, performance improved as well," he said.
No release date yet, but more details later this year
The technology shown during the demo is still an internal preview, so it isn't yet certain when, or in what form, it will make its way into a public release of the software.
Product marketing manager Shane Griffith said that integration would focus on three key areas of Modo – viewing, modeling and layout – and that the firm would "hopefully be able to present more this year".
Watch the recording of Modo Live on Gnomon's Livestream channel
(The preview of the VR tools starts at 01:44:00)