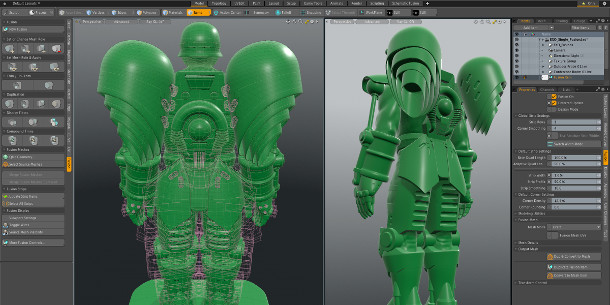 The Foundry has announced Modo 10.2, the third and final instalment in its Modo 10 Series of updates to its 3D modelling and animation software.
The release, which is due to ship on 13 October, updates the MeshFusion Boolean modelling toolset (shown in the image above) and procedural modelling tools, and adds a new automatic retopology system.
Schematic-free Booleans, extended procedural modelling, new retopo and lighting options
And that's it so far, at least from The Foundry itself: the newsletter announcing the update doesn't go into further detail about the new features, and at time of posting, the Modo website hasn't been updated.
However, there is a bit more information on the site of German reseller Maconcept, which has a bullet-pointed summary of the new features here and a slightly longer post with some screenshots here.
According to Maconcept, the MeshFusion Boolean toolset, incorporated into the core software in Modo 901, now works without schematics, making it faster and easier to use.
The procedural modelling tools introduced in Modo 10.1 also get a further update, including the new ability to "create shareable presets from sets of operations".
Other new features and changes include an automatic retopology system, accelerated animation and rendering performance, and the option to use arbitrary meshes as light sources.
Pricing and availability
Modo 10.2 is due to launch on 13 October 2016 for Windows, Linux and Mac OS X. The update will be free to anyone who purchased either of the previous two updates in the Modo 10 Series, Modo 10.0v1 and Modo 10.1.
Both individual and floating licences of Modo 10 cost $1,799, although The Foundry says that it will be offering a 40% launch discount for the week following Modo 10.2's release.
Read more about Modo 10.2 on Maconcept's website (Includes more screenshots)
Visit the official Modo product website
Tags: animation, Boolean, lighting, MeshFusion, modo, Modo 10 Series, Modo 10.0v1, Modo 10.1, Modo 10.2, new features, price, procedural modeling, release date, rendering, retopology, The Foundry