Thursday, September 1st, 2016

Posted by Jim Thacker
Triumph releases Blend4Web 16.08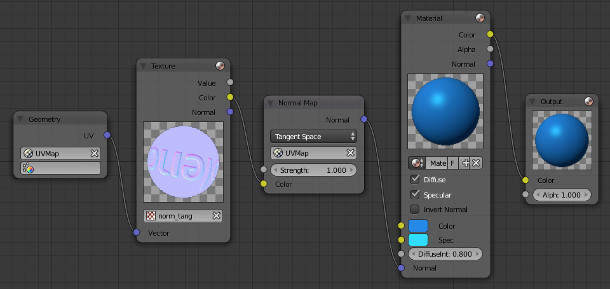 New features in Blend4Web 16.08, the latest update to Triumph's tool for turning Blender scenes into interactive web apps include extended support for Blender's Normal Map node, including a new Strength attribute.

Triumph has released Blend4Web 16.08, the latest update to its framework for converting Blender scenes into interactive web apps, extending the shading options available, and updating the Normal Editor.
Other functionality added since the last time we wrote about the toolset include support for gamepads and VR devices including Google Cardboard and the GearVR headset, and better workflows for particle systems.
So what is Blend4Web?
Blend4Web enables Blender users to export scenes in HTML format, for viewing in any WebGL-capable browser. As well as animated geometry, the export process supports Blender's physics and positional audio.
The content can be made interactive either through scripting interactions directly using JavaScript, or by using the Logic Editor: Blend4Web's built-in node-based visual programming environment.
Current commercial users range from NASA's Jet Propulsion Laboratory to Greenpeace.
New in Blend4Web 16.08: updates to the Normal Editor
One interesting feature of the latest update is the new user-suggested functionality in the Normal Editor.
The tool provides a quick way of changing the shading on a low-poly model without altering its geometry. According to Triumph, it's often used by game artists working with other engines, like Unity.
Changes include a new Offset mode, enabling users to modify normals incrementally, rather than entering absolute values.
More shading options, improved debugging tools
In addition, support for the Normal Map node from Blender's Cycles renderer (image, top of story) now extends to tangent, object and world space normals; and there is a new Strength attribute for fine-tuning the effect.
Blend4Web also now supports Blender's Tangent Shading option has been supported to allow for simulating anisotropic effects such as those visible on brushed metal or hair.
Other changes include support for hidden objects in scenes, and updates to the scene debugging tools.
Also new this year: support for VR devices and gamepads
Other new functionality added since we last wrote about Blend4Web – new builds are released monthly – includes support for the simpler VR displays, including Google Cardboard and the Samsung GearVR headset.
The software also now includes preliminary support for gamepads, based on the Gamepad API.
Other features include better handling of particle systems, including support for Blender's Particle Info node, reflection of transparent objects, and new readymade materials in the Pro edition of the software.
Pricing and availability
Blend4Web 16.08 is available now. It's compatible with Blender 2.77 on Windows, Linux or Mac OS X, although you'll need Blender 2.78 – at time of posting, still a test build – for some of the Normal Map node features.
The software is available for free under an open-source GPL licence, or as a commercial Pro licence, which costs $990 per individual developer. Triumph also offers commercial tech support for Pro licence holders.

Read a full list of new features in Blend4Web 16.08 on Triumph's blog