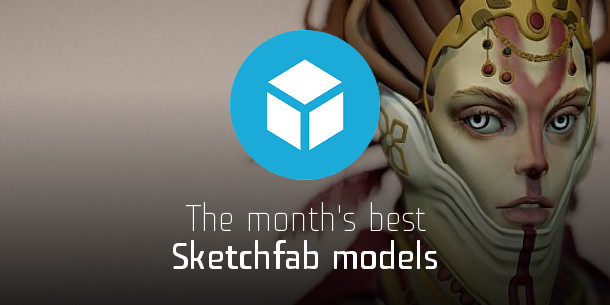 Sketchfab provides a simple way for anyone to publish and share their 3D models online. To celebrate the best in real-time 3D art, we asked the Sketchfab team to pick the 10 greatest models uploaded to the site this month.
To interact with a model in 3D, click the large Play icon in the centre of the frame.
To find out more about a model, click the small Sketchfab logo on the bottom left of the frame.
Dani Diez fanart by ResThoughtless
320.9k faces
Based on a concept image by Dani Diez.
Daenerys And Drogon by Carlos Quintero
16.6k faces
Game of Thrones fan art.
DragonFly by Leandro Calazans
16.7k faces
Based on a concept image by Meejoo Lee.
Sci-Fi scene – Alien and Motorcycle by Evozon Game Studio
36.3k faces
Chinese Old Place by Christophe Degraeve
62.6k faces
DIORAMA BAKED by Murilo Kleine
14.3k faces
Misia Zajtseva (+Irena) by yanagi*2
14.0k faces
Supergirl by Jesus Conde
178.4k faces
Fortitude in Yellow / Royal Police by Vermilion Wlad
26.6k faces
Want to vote for a model of the month? Just Like your favourites on the Sketchfab site, or upload your own!
Tags: best 3D models, best real-time models, July 2016, models of the month, real time, Sketchfab