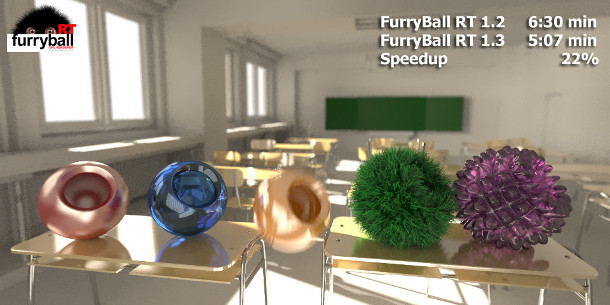 Originally posted on 5 April 2016. Scroll down for updates.
AAA Studio has released FurryBall RT 1.3, the latest update to its GPU-based renderer, improving render speed by up to 30%, and introducing a scheme where regular users can get credits to use the software free.
New in version 1.3: improved performance, new spherical camera
In terms of the release itself, the main changes in FurryBall RT 1.3 are under the hood: AAA Studio claims that render speed is increased by 20-35% in "most cases" and up to 300% on some scenes.
The update also adds support for a 360-degree spherical camera, suitable for use in VR work; and automatic near/far detection, which promises "better Z-resolution, less pixelated edges and better antialiasing".
New Credit version lets good online citizens use FurryBall RT for free
More unusually, AAA Studio has also introduced a new render-credit-based version of the software, on top of its existing perpetual licences and monthly, quarterly or annual rental options.
The Credit version is fully featured, can be used commercially, and output is not watermarked, unlike the existing trial edition. It can also be installed for free on any number of machines.
For each machine you install it on, you get 30 free render credits, each of which gives an hour of render time.
Updated 7 July 2016: Users can now earn 30 further free credits a month just by logging into FurryBall RT.
Once they're gone, you can either buy new credits, with prices starting at €9 for 10 (roughly $1 per credit), or earn them by being active in the user community.
According to AAA Studio, anyone reporting bugs or sharing tutorials or renders online can earn up to 50 100 free credits each month, although it isn't clear what the rate of 'pay' will be.
On the down side, you don't get get support beyond help with "basic install problems", and you have to be online the whole time while rendering – presumably just so that credits can be deducted correctly.
It's an interesting model: students and freelancers get to use the software for free indefinitely, while in return AAA Studio gets a more active user community, with people creating a buzz about the renderer online.
Pricing and availability
FurryBall RT 1.3 is available for Maya 2011 and above and Cinema 4D R15 and above, running on 64-bit Windows Vista and above. Linux and Mac OS X support is planned. You'll need a CUDA-capable Nvidia GPU.
As well as the Credit version listed above, a standard perpetual licence of the software costs €359 (around $410), with rental starting at €39/month ($45/month).
Each licence includes both Maya and C4D plugins, plus FurryBall 4.8, the last release to support 3ds Max.
Read a full list of new features in FurryBall RT 1.3
Read the FAQs for the new Credit version of the software
Tags: 3ds max, AAA Studio, article, Cinema 4D, credit, Credit version, free, FurryBall, FurryBall RT, FurryBall RT 1.3, Maya, new features, performance boost, price, render credit, report bugs, speed boost, tutorial