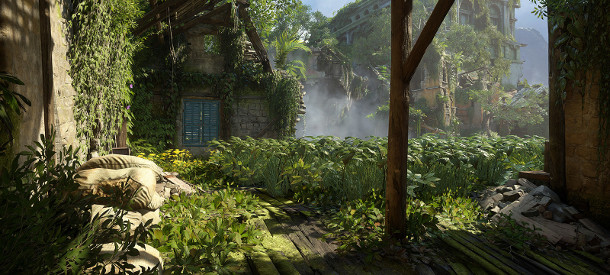 There will be a rare chance to see Naughty Dog's workflow on the recently released Uncharted 4 at a free event at Gnomon – School of Visual Effects, Games and Animation this Thursday, 26 May.
The demo is just one highlight of 3D Environment Art for Video Games, a panel discussion on the current state of the art in environment work, and on careers in the video game industry.
Insiders' views from Naughty Dog, Blizzard Entertainment and EA DICE
The panel comprises Naughty Dog environment modeler Martin Teichmann (Uncharted 4); Blizzard 3D environment artist Helder Pinto (Overwatch); and EA DICE 3D artist Joy Lea, a veteran of the Battlefield series.
Over the course of two hours, the trio will discuss how they came to be working on some of the year's most celebrated games, and share their technical tips and techniques.
As well as providing advice for artists hoping to get their first job in game development, the session will provide working professionals with insight into AAA studios' workflows: Martin Teichmann's presentation will include a workflow example of a scene created for Uncharted 4.
The session will wrap up with a 30-minute Q&A, giving members of the public a chance to ask questions.
Free to attend or watch online, but register in advance for the live event
3D Environment Art for Video Games takes place at Gnomon's Hollywood campus from 7.30-10pm on Thursday 26 May 2016. Entry is free, but you'll need to register online in advance.
If you can't make it to LA in person, the event will be broadcast worldwide on Gnomon's Livestream channel. Online viewers can send questions live on Twitter using the hashtag #gnomon.
Read more about 3D Environment Art for Video Games on Gnomon's website
(Includes link to register and directions to the venue)
Watch 3D Environment Art for Video Games

Full disclosure: CG Channel is owned by Gnomon – School of Visual Effects, Games and Animation.
Tags: 3D Environment Art for Video Games, Blizzard Entertainment, career advice, EA DICE, environment art, free, Games and Animation, Gnomon, Gnomon School of Visual Effects, Helder Pinto, Joy Lea, livestream, Martin Teichmann, naughty dog, panel discussion, production techniques, Q&A, talk, techniques, tips, tricks, videogames, watch online, workflow