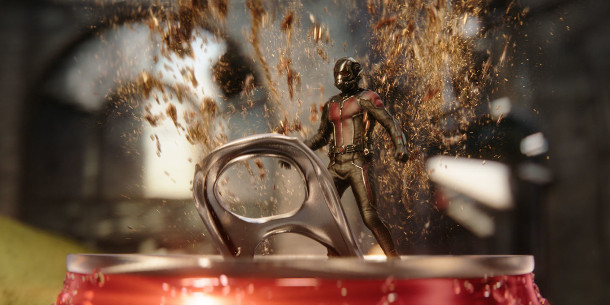 If you've seen Deadpool, The Avengers, or any number of recent commercials – like the 'A Mini Marvel' spot for Coca-Cola above – you'll know that Luma Pictures creates amazing visual effects.
This Thursday, 16 June, get an exclusive insiders' view of how those effects are created at An Evening with Luma Pictures, a free evening event at Gnomon's Hollywood campus, also broadcast live online.
An insiders' guide to the VFX industry
The session brings together four of Luma's leading artists: VP/VFX supervisor Vince Cirelli, CG supervisor Oded Raz, 2D supervisor Alexandre Cancado and character supervisor Mathieu Aerni.
Together, they will reveal "how to execute great VFX by failing fast (and why that's okay), finding cheats (because you should), and learning to feed off your colleagues (like zombie pirates)".
The talk will offer "unique industry insights to help you discover what the professionals care about, as well as what they don't", and conclude with a 30-minute Q&A session.
Free to attend, but register online in advance
An Evening with Luma Pictures: A Recipe for Exceptional VFX takes place from 7.30-9pm on Thursday 16 June at Gnomon's Hollywood campus. It's free to the public, but you'll need to register online in advance.
If you can't make it to LA, the event will also be broadcast free worldwide on Gnomon's Livestream channel. You don't need to register to watch the stream, and can ask questions via Twitter using the hashtag #gnomon.
Read more about An Evening with Luma Pictures on Gnomon's website
(Includes link to register, plus directions to the venue)
Watch An Evening with Luma Pictures
Full disclosure: CG Channel is owned by Gnomon – School of Visual Effects, Games and Animation.
Tags: Alexandre Cancado, An Evening with Luma Pictures: A Recipe for Exceptional VFX, career advice, Deadpool, event, free, Games and Animation, Gnomon, Gnomon School of Visual Effects, Guardians of the Galaxy, livestream, Luma Pictures, making of, marvel, Mathieu Aerni, Oded Raz, presentation, Q&A, talk, techniques, The Avengers, tips, Vince Cirelli, visual effects, watch free online, workflow